The United States is a country that has the fundamentals of education right from the beginning. That's why, for the most part, the country has the leading schools in the world, including preschool, high school, college, and research institutions.
However, the focus here is high school, considered one of the essential education for students. As big as the country is, high schools are expected to follow suit, and that's the case here.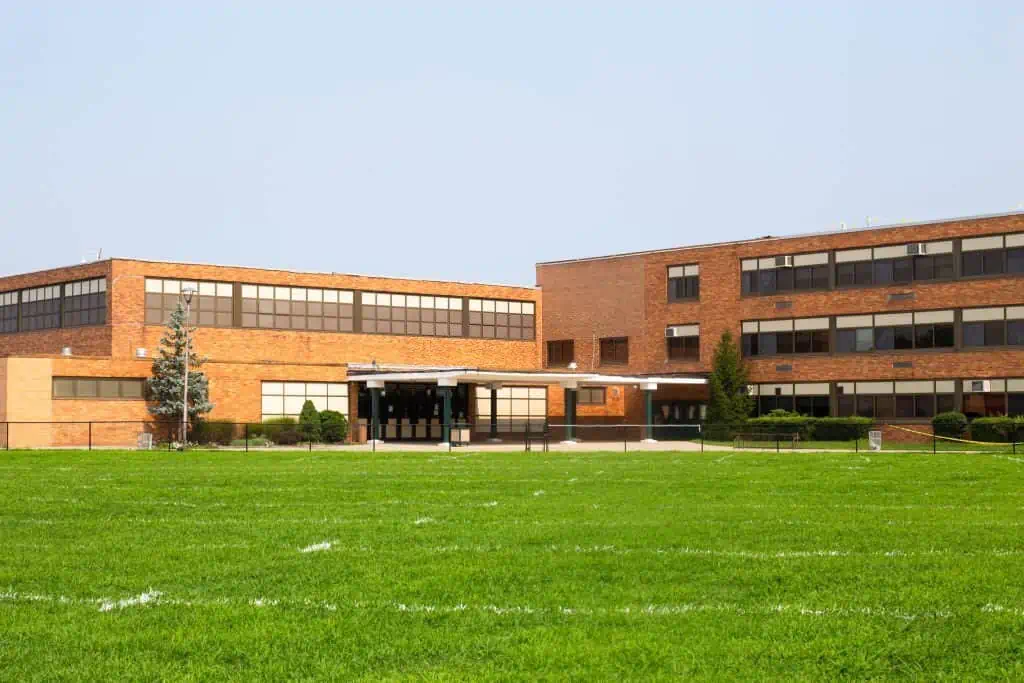 A high school is considered big if it has over 2000 students, so you can imagine the number of students making up the biggest in the United States. Such schools have a wide-ranging curriculum, the facilities to match, and the staff to look after kids.
That presents a functioning system within the school and makes it capable of molding the lives of its students. You can expect that much from a well-planned and orchestrated educational institution.
The Largest High School in America by Number of Students
There are almost always two significant considerations when deciding which high school is the biggest. One of them is the facility and the other students. Regarding the number of students, the largest high school in the US is Penn Foster High School, located in Scranton, Pennsylvania. Currently, it has approximately 60,000 students enrolled through direct or online classes at the school.
The Penn Foster High School was established in 1890 by a newspaper editor, Thomas J. Foster. However, the high school wasn't the only establishment. The Penn Foster Career School and Penn Foster College followed. These educational institutions were first created to assist coal miners with the education necessary for their careers and work safety.
Presently, Penn Foster High School, including the Career School and the College, ranks among the best in the country. For example, the high school has drawn acclaim for its exceptional care and first-class education of all its students. What's more, students of Penn Foster have the privilege of earning diplomas, regardless of their educational background.
Academics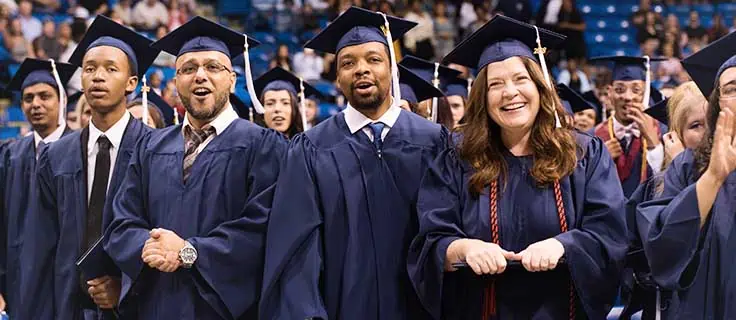 As a student, you will offer core curriculum classes and five elective courses to go with those. The elective courses will help you focus on specific industries.
Also, Penn Foster High School runs distance education, so students don't have to be physically present to attend classes. Moreover, the diploma program here is regionally accredited by the Commission on Secondary Schools of the Middle States Association of Colleges and Schools.
Thanks to the Penn Foster educational institutions, the number of students keeps increasing. On the national level, Penn High is accredited by the Distance Education Accrediting Commission and AdvancED. The school has won several awards, such as the International Distance Learning Award in 2014, the Brandon Hall Excellence in Learning Award in 2015, and many others that recognize its contributions to educational pursuits.
The Largest High School in the US by Facility
The importance of the facility can't be stressed enough. While it takes more than land mass to provide exceptional education, the Evanston Township High School runs the most extensive facility in the US. This public high school in Evanston, Illinois, occupies a 65-acre (260,000m2) campus in the north suburb of Chicago. Compared to the stated size, the school enrolls just 3,731 students, according to a 2020 report.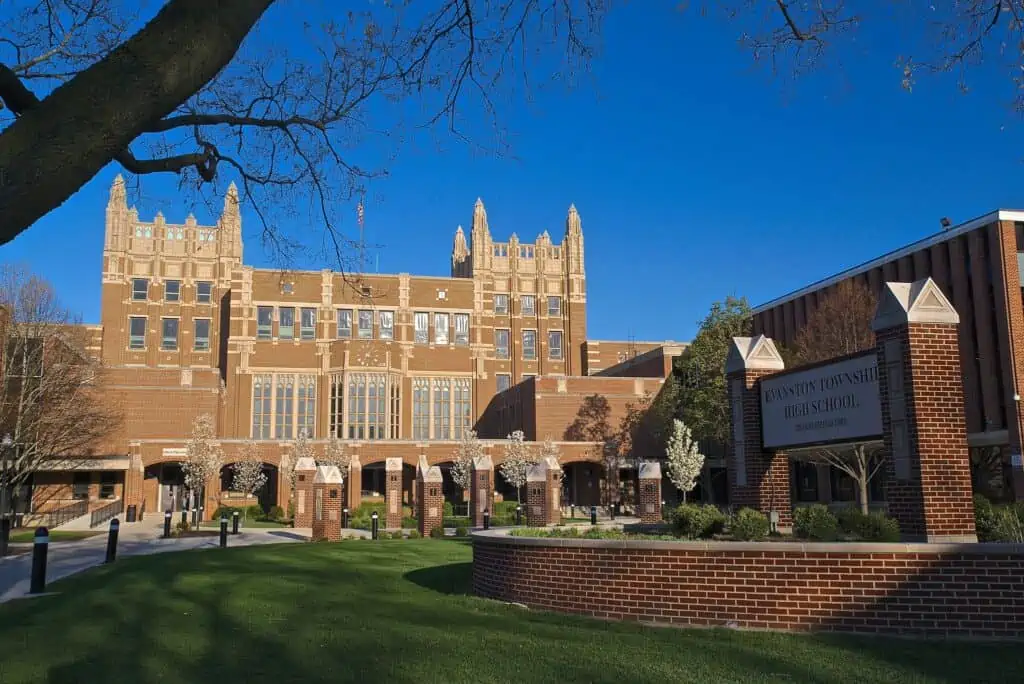 Established in 1883, the Evanston Township High School was one of the first high schools in this area. It wasn't always this big, but by 1921, the school moved to a 55-acre campus after several years of increases, which later expanded to 65 acres.
Thanks to the size of Evanston Township High, students are exposed to many different educational facilities. There's a planetarium, a greenhouse, a nature center/classroom, sports facilities, etc.
Other facilities include those for the South Technology Center, and the urban farming project called The Taking Farm. Students and volunteers help on the farm. In addition, students also have access to some of the best computer-based SMART Labs, a daycare center, and Auto-Tech classes, among other facilities.
Other Large High Schools in America
Some high schools come close to Penn Foster High School in size and number of students. Some of them are:
1. Ohio Virtual Academy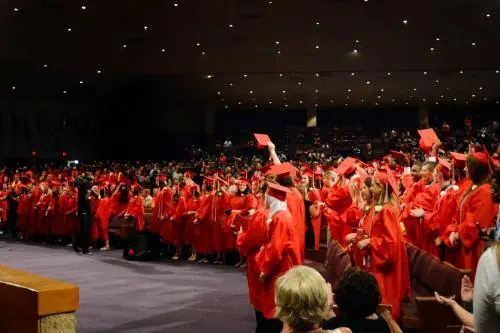 The Ohio Virtual Academy is a public school in Maumee, Ohio, with more than 9,400 students and counting. It's an online public school that gives students access to full-time, tuition-free education.
Students can enjoy a complete education with extensive career exploration opportunities. Their Destinations programs are motivated by the idea that middle and high school provide the best time for students to follow or consider a specific career path.
Further, Ohio Virtual Academy offers AP-level and honors courses with its core courses.
2. Georgia Cyber Academy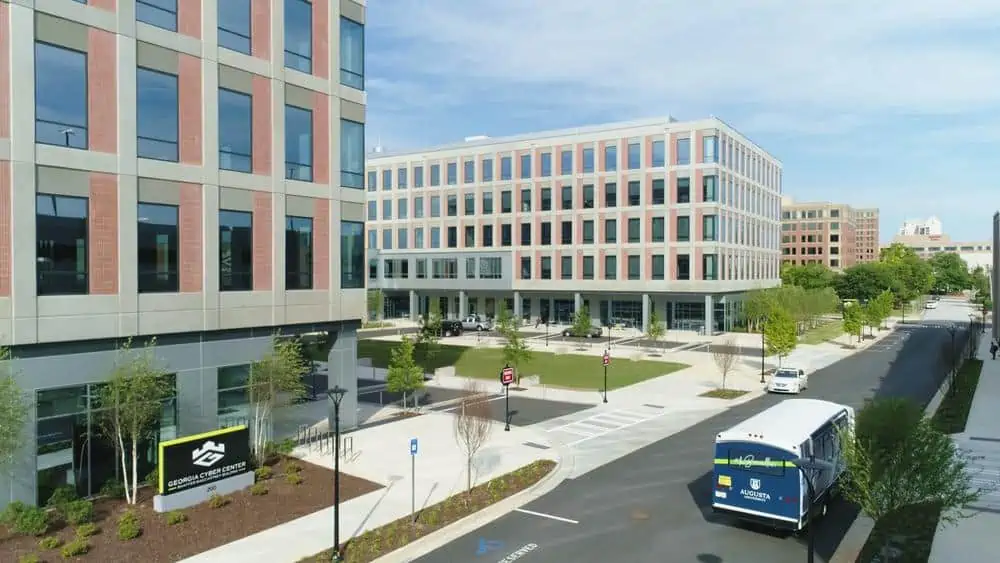 The Georgia Cyber Academy is another large high school in the United States with about 14,000 students. This private high school is located in Atlanta, Georgia, and runs a unique program to assist homeless students.
Here, students can learn outside of a traditional setting by taking their courses online. In addition, Georgia Cyber Academy provides resident students in Georgia with a tuition-free, full course load.
You get a comprehensive course selection, including electives like world languages, while ambitious students can dual-enroll for college credit. With this high school, you get an institution striving to make education accessible to everyone, mainly migrant and homeless students.
3. BYU Independent Study High School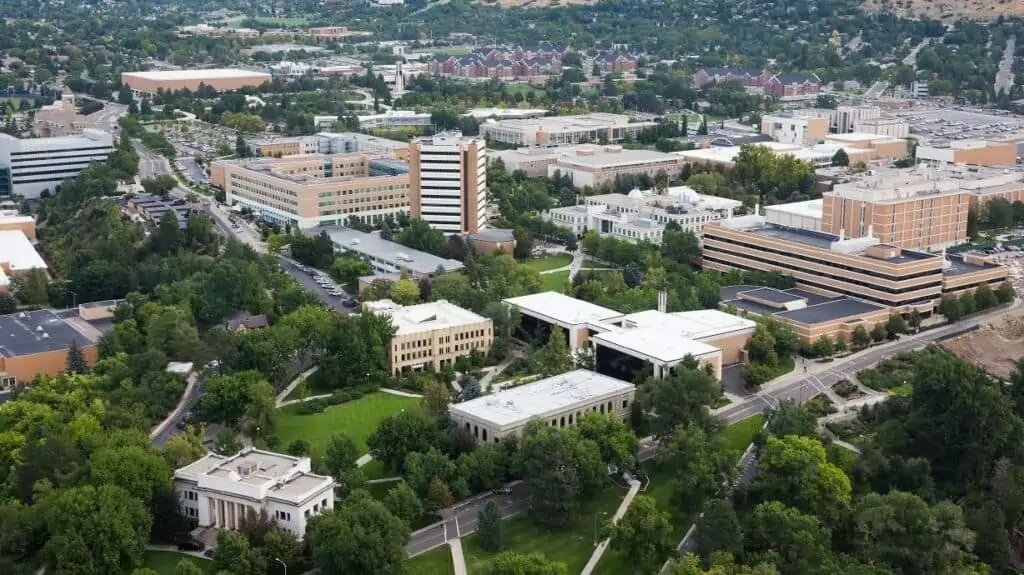 The Independent Study High School is a private school located in Provo, Utah, with more than 41,000 students. One of the leading concepts in this school is teacher-led activities designed to make educational opportunities available to a wide range of students.
Students from different backgrounds get equal opportunities to learn in their online classes. That's why it services many of the 50 states in the United States and 90 countries around the world.
BYU makes several financial aid programs available to help struggling students receive a quality education. Additionally, students who show exceptional promise are given university scholarships.
Advantages of Attending a Large High School
When you think about it, attending a large public high school has many advantages. Some of them are:
1. The Social Environment
In a world where everything is digital, it can be almost impossible to make friends. Moreover, students have many things to deal with, so it can be hard to find loyal friends who understand some essential things about them.
However, large high schools offer a vast social environment over smaller schools, thanks to the sheer number of people and possible connections you can make. Even without mingling so much, you'll come across a wide range of people you can communicate with.
2. There are More Academic Opportunities
It's typical for larger high schools to offer more academic choices with the number of courses you can choose from. Whether you take advanced placement classes or college credit classes within the school, the educational opportunities allow students to figure out the path to follow. They can choose a career line even before they make it to college.
Students at some big high schools are also afforded internship opportunities to give them experience in their desired careers. It's a huge advantage and puts them several steps ahead of their peers while transitioning into college or beginning their careers.
3. Lively School Events
School events are much more fun with a large, organized group. Think about a crowded football game or a music concert; you already get the chills. Besides, every event becomes a show and a spectacle students can cheerfully anticipate. While small schools will have some divide to make up the numbers, that won't happen in a big high school.
Conclusion
It's clear that the largest high schools in the United States deal with thousands of students, and the numbers increase every year. The Internet has also provided a great option to help some high schools organize classes online for students in different areas, including internationally. As a result, the number of students ballooned to a new level. High school students can enjoy a quality education that prepares them for a meaningful future.
According to research, Penn Foster High School is the biggest in the United States. Sure, its facility isn't the biggest, but you must be doing something right when you have a 60,000-strong student body.
That said, it's essential to be deliberate about the high school education you want for a loved one. Thankfully, the United States has more than a plethora of high schools across the length and breadth of the country so that you can make an informed choice.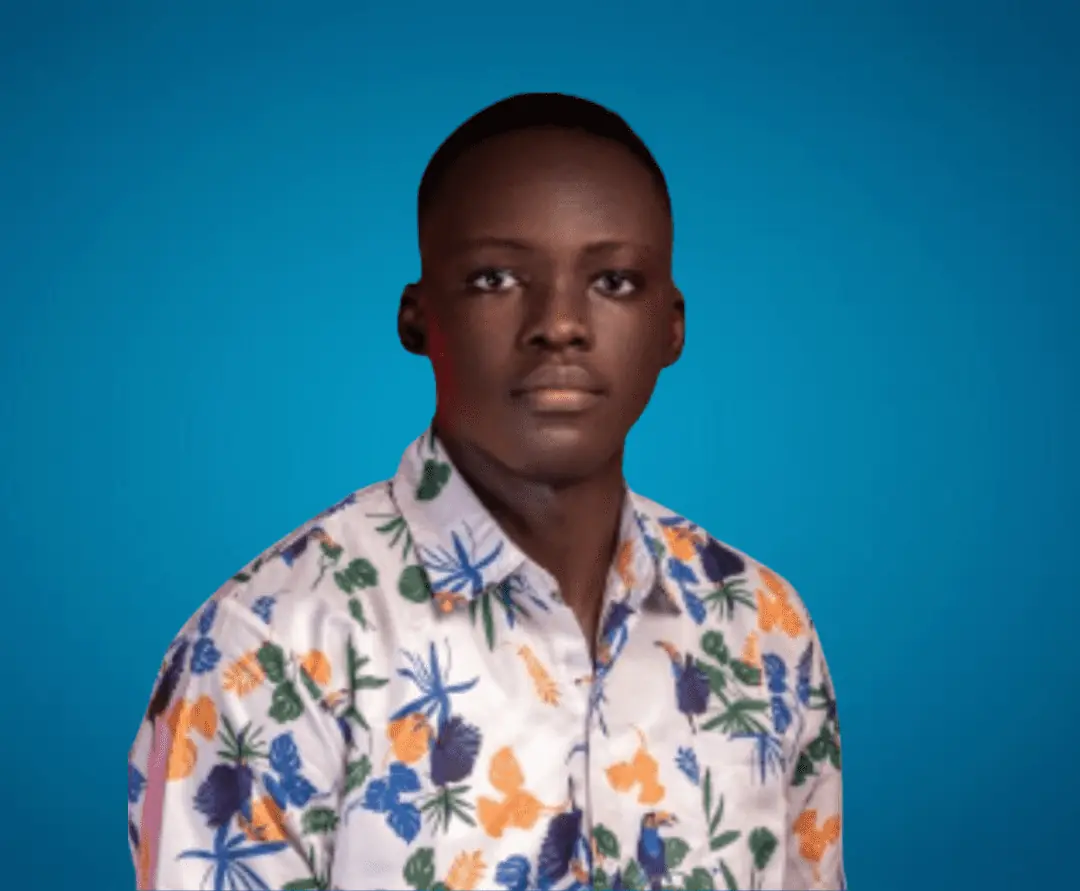 Sam is a brilliant young Nigerian biochemistry student and an aspiring entrepreneur. Despite facing many challenges, he has never lost his passion for learning and drive to make a difference in the world. Read more about him here.
Was this article helpful?