Canada is one of the top places where you can find the best Film Schools globally – having a television and film industry worth billions of dollars and producing world-class movies and animation with excellent visual effects. If a list of the best Television industry worldwide is compiled, Canada should rank among the top 10.
Movie and Post-production companies ensure only the best talents are recruited to work with them, ranging from actors to producers, directors, stage managers, etc. The point is, if you are not well qualified, your chances of getting employed will be minimal. Similar is the case for other countries too.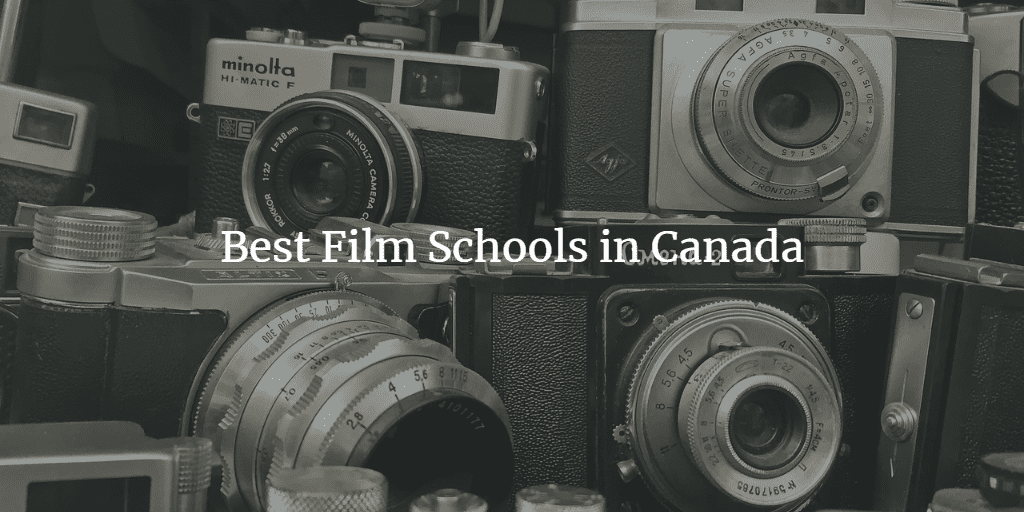 This is why film schools have thrived so well in Canada which has helped fuel the global talent pipeline. You can't mention five successful members of a movie cast and crew without mentioning at least two who have finished Film school in Canada. This is to show you how productive Canadian Film schools have been.
Statistics from the Motion Picture Association show that over 181,000 people were employed in 2018-2019 in major movie roles including special effects and animation, sound editing, camera operation, and post-production. In this period, the volume of film and television production reached the $9.32 billion mark and generated a Gross Domestic Product (GDP) of $12.8 billion for the Canadian economy. All of these happened in the space of two years.
If you are interested in attending a film school in Canada, you must go for the best, considering the competition in the industry. This article will include the best 11 Film Schools in Canada, fees, programs, and other important information about them.
Best film schools in Canada 2022
These Film schools offer diploma courses, certificate programs, and even four-year bachelor's and master's degree programs. Students are given a variety of courses to choose from. They include technical programs and filmmaking courses to prepare you for a great career in film production.
As a film school graduate, the places you can work are limitless. Film school graduates are even employed in journalism and advertising, as a result of their unmatchable visual storytelling skills.
No matter the role you wish to play in movie production, these schools will help groom you to be among the best. Let's find out about them.
1. University of British Columbia
The University of British Columbia is ranked among the best in the world, in fact, it is among the top 20 public universities globally. Its campus is located in Vancouver, Canada.
The University currently runs a renowned film training program that has produced several movie production experts in the past years. The program is mainly practical because that is what helps the students learn better.
Most times, junior students learn from their seniors when they work together on student film sets. This helps promote a mutual relationship among them. An alumnus of this great institution is the Producer of the popular television series "The Good Fight".
Programs offered
The University of British Columbia offers a 4-year degree program in Fine Arts. Courses offered include Introduction to Motion Picture directing, Film and media production, Motion Picture sound, Post-production techniques, Cinematography, etc.
2. Ryerson University
Ryerson University is located in the center of Toronto, with proximity to the city's entertainment district. It is among the best schools in Canada and is well known for that fact.
Ryerson University film school is known as the School of Image Arts and is known for helping students discover where they fit in movie production. The school also gives students the opportunity to learn alongside professionals in the industry.
Programs offered;
The Ryerson University School of Image Arts offers a 4-year degree program in Film Studies. Graduates obtain a Bachelor of Fine Arts after completion of the program.
Courses offered during the program include; film technology, film theory, writing, producing, directing, cinematography, sound, film production, art direction, and movie editing. There is an opportunity for students to pursue an Integrated Digital Option program in the third year. This program will help them major in digital media via specialized production and technical courses.
In addition, the Film Studies program at Ryerson University offers an easy-to-understand academic pattern for undergraduate studies both in the theoretical and practical aspects of filmmaking and storytelling. The mission of the school is to produce movie professionals who will dominate the Canadian movie industry and around the world.
3. York University
If you want to learn from the best and most well-experienced in the industry, you might consider choosing York University. The University film school, located in Toronto is the York University School of Arts is managed and guided by award-winning professionals who can help students achieve their full potential in filmmaking and movie production.
At York University, Students will gain practical experience, explore different career options in filmmaking, and also build good relationships with potential employers in the industry. This can be made possible through field placements, internships, etc. The school's partnership with a variety of creative industries and arts organizations will also be of great help.
One thing the York University School of Arts is known for is a convenient student-to-teacher ratio. In the first year, the classes do not exceed 25 students. The class number reduces to around 10-15 in the third and fourth years.
Programs offered;
Since it is a university, York University also offers a 4-year degree program in courses like cinematography, editing, sound production, directing, screenwriting, and movie production. Students are allowed to work together as a crew to cultivate a mutual learning environment on a range of digital and film formats, utilizing industry-standard production and post-production facilities.
The program combines in-depth technical instruction with a strong emphasis on the creative aspects of the film as a medium of storytelling, social engagement, and self-expression.
4. Humber College
Just like York University, Humber College is also located in Toronto and is the largest college in the whole of Canada. It is recognized as the 4th best film school in Canada and also has a high ranking on the world's list.
The college boasts over 83,000 students of which 56,000 are part-time. Aside from Movie production, Humber College has produced thousands of graduates who are highly favored in the job market, because of the foundation that has been set.
Humber College has three campuses, the first in the North end of Toronto, the second, just west of the City on Lake Ontario, and the third which is the smallest in Orangeville and boasts 200 full-time students.
Programs offered;
Humber University offers a Bachelor of Film and Media Production program, which runs for 4 years (8 semesters in total). The program comes with both theoretical and practical knowledge in courses ranging from Cinematography, sound editing, videography, direction, picture editing, etc.
There is also a shorter Advanced diploma program in Film and Television Production, which runs for 3 years (6 semesters). This is usually more focused than the 4-year degree program.
Both programs are usually guided by experts in the movie industry, providing knowledge on how to use the equipment used on sets around the world. Students have access to world-class studios and up-to-date editing suites, for both video and audio. Classes are organized in writing, lighting, directing, camera operating, and even distribution or exhibition are offered, so students can work on every aspect of a production from start to finish.
Another advance of the programs at Humber College is the exposure to potential employers. It features work placement programs that can last for eight to fourteen weeks.
During this period, students get to work on set, helping with different duties in movie and film productions. Humber graduates' films regularly get selected at festivals such as TIFF, Hot Docs, and the Montreal World Film Festival.
5. Fanshawe College
Fanshawe College is located in southwestern Ontario. It is one of the largest colleges in the city, having four campuses in London, Woodstock, St. Thomas, and Simcoe.
The college boasts 43,000 students presently. Fanshawe offers an advanced program in Filmmaking that is designed for students who want to learn theoretical and practical skills to get them well-equipped for the film and television industry.
Programs Offered;
Fanshawe College offers a graduate certificate program to help students build and improve their theoretical, creative, and technical knowledge, to become better and indispensable members of a film crew. The college, which is being run by industry professionals, will guide you on the hands-on technical and artistic aspects of filmmaking.
You will gain an understanding of the Canadian film industry and have the option of taking an internship with one of the college's industry partners. Brock University and Fanshawe have developed an articulation agreement to allow qualified students to earn both a four-year Bachelor of Arts degree with a major in Film Studies and an Ontario Graduate Certificate in Advanced Filmmaking. You can start your movie production program at either Fanshawe College or Brock University.
6. George Brown College
George Brown College is one of the best film schools in Canada and North America. It is located in the heart of downtown Toronto. The city where George Brown is located is a positive catalyst for the growth of the students at the college.
It is in this city that they learn the art of sound and video design and production and they also gain access to professionals in the Canadian film industry.
George Brown College has three main campuses in St. James, Casa Loma, and The Waterfront. There are other small locations in the heart of Downtown Toronto that students use for their studies and training.
Programs Offered;
It is no news that there is an increased demand for sound designers in North America. This is due to the massive growth of the mobile entertainment and gaming industry in the region. George Brown College makes it part of its mission to produce world-class sound designers and engineers who will create the sound for film, television, and games.
Students collaborate with other media programs to create and improve sound for shorts, clips, animations, and games. Courses offered in George Brown include game audio design, production, sound design, sound design theory, applied post-production, and location sound to mention a few.
George Brown College's Video Design & Production diploma program will expose students to traditional and emerging film techniques. Courses include digital video technology, digital production, digital storytelling, audio production, video editing, visual effects, directing, and a capstone project.
7. Vancouver Film School
Vancouver Film School was founded in 1987 and has since then been operating as a major film studio having multiple production facilities for creating film, TV, games, animation, design, digital applications, and other movie production roles.
You will have access to the school's alumni directory and make connections that will help you launch your career. The school offers 15 post-secondary programs taught by industry professionals across eight campuses across Vancouver in the heart of Canada's Hollywood North.
Programs Offered;
Just a year! In a year, you will graduate with a diploma in film production, with a demo reel of your work. Vancouver Film School offers 5 disciplines of Filmmaking within that one year.
The courses offered include producing, cinematography, production design, movie directing, and post-production.
8. Concordia University
Concordia University is located in the vibrant, and multicultural city of Montreal, providing the most suitable platform for students to learn the craft of movie production and filmmaking in the city's busy film industry. It has relatively small class sizes, with most of the courses having less than 60 students.
Concordia University is also among the most sought-after universities in Canada, attracting over 50,000 students every year.
Programs Offered;
At the center of the Bachelor of Fine Arts, Film Production program is the Filmmaking I, II, and III courses. Supporting the core production courses in the program are technical courses such as cinematography and sound.
Other courses incorporate the process and aesthetic considerations such as writing, directing, expanded cinema, montage, production design, and creative producing.
The Master of Fine Arts, Film Production combines seminar courses in art criticism, history, and theory, augmented by workshops, visiting lecturers, and special projects, with independent, supervised studio practice in the first two years, and the third year is devoted to studio practice and production.
9. Simon Fraser University
Simon Fraser University was established in 1965, and is currently located in Canada's West Coast Filmmaking hub and has campuses in Vancouver, Surrey, and Burnaby. However, the Simon Fraser University Film School is located in Downtown Vancouver. Its name is the School for the Contemporary Arts.
Programs Offered;
Simon Fraser University offers a Bachelor of Fine Arts degree, which is a 4-year film program combining technical training and skills development. Unlike other film schools that accept large numbers of people, Simon Fraser receives barely 150 applications every year, of which not more than 25 are accepted.
This small size helps them collaborate better by shredding a healthy working relationship. The program offers three options for study: Major in Film, Extended Minor in Film, and Minor in Film and Video Studies.
In the first-year students learn to shoot 16mm film on Bolex cameras and how to hand-process film. In the third and fourth years, the option to shoot on film is still there, though many students still opt to work in digital video
10. Trebas Institute
Trebas Film Institute is also located in the most favorable city in the country, Toronto. The location is one of the top centers of filmmaking in North America.
Trebas Institute was established in 1979 as a private career college. It is focused on providing the skills needed for people to succeed in the entertainment industry.
Approximately 80 percent of graduates from Trebas Institute find a job related to their field within six months into careers such as film and video editors, gaffer/grip, screenwriting, post-production work, and cinematography.
Programs Offered;
Talking about a larger program scope? Trebas Institute offers that. You will be immersed in learning how to operate essential equipment for the film industry, including cameras (HD, 4K, and more), lighting and audio equipment, green screens, and contemporary video post-production and editing software.
Projects will include working on short films, a web series, television broadcasts, and commercials. The instructors have vast experience in entertainment production and are always bringing new techniques to the learning experience of each program.
11. Toronto Film School
If you are very conversant with film schools in Canada, you must have heard about the Toronto Film School. It is located across three Yonge-St. campuses in downtown Toronto. Toronto Film School is well-known for offering practical and theoretical courses in filmmaking and video production.
Looking for film schools with small class sizes? You can also have that at the Toronto Film School. As we know, small class sizes help improve one-on-one tutoring and mentoring.
This is necessary to speed up the growth of students. Toronto launched a studio campus in 2019, where students can do fieldwork with professionals and have real-life experience.
Programs Offered;
It doesn't matter what role you want to play in movie production, be it the role of a director, producer, camera operator, sound designer, or post-production supervisor, Toronto Film School offers advanced diploma programs to kickstart your career in any of these roles.
Courses offered at Toronto film school include audio, editing, cinematography, production, marketing and promotion, advanced directing, camera and set procedure, storyboards, and visual storytelling. The duration for any of these programs is just 18 months (A year and a half).