The University of Cambridge is known for its strict selection process regarding admission and this has made most prospective students inquisitive about the Cambridge University acceptance rate.
If you also want to learn more about the institution's admission requirements for undergraduate and postgraduate students, then you are at the right place. Cambridge University is among the oldest and best universities in the world.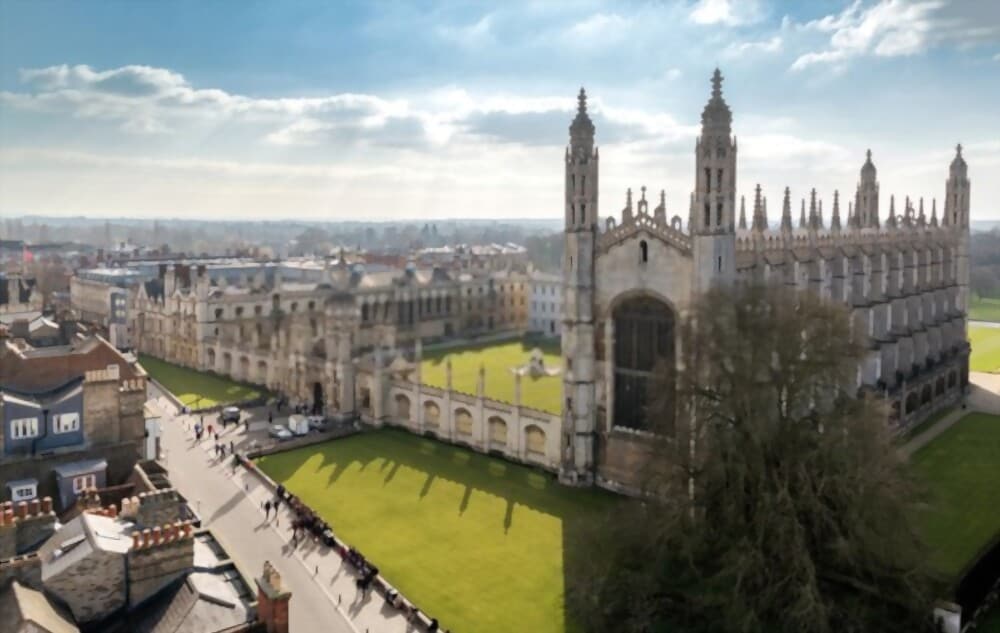 So without further ado let's get started.
Cambridge University Acceptance Rate
The acepatnce rate for Cambridge University in 2022 is 20.8%. Out of over 22,000 applications received only 4,274 were offered admission to study at Cambridge.
When compared to the admission statistics for the previous year, the total number of applications reduced by 0.2%, and the acceptances increased by 2.1%. Keep in mind that Cambridge has a yield of more than 80%.
| Year | Acceptance Rate |
| --- | --- |
| 2022 | 20.8% |
| 2021 | 18.7% |
| 2020 | 23.1% |
| 2019 | 24.2% |
| 2018 | 24.8% |
Want to know the least competitive colleges at the University of Cambridge? Continue reading.
Acceptance Rate By College
Below are the acceptance rates of the University of Cambridge's colleges for 2022.
| College | Acceptance Rate |
| --- | --- |
| Christ | 15.6% |
| Churchill | 15.9% |
| Clare | 17.3% |
| Corpus Christi | 16.6% |
| Downing | 13.3% |
| Emmanuel | 17.8% |
| Fitzwilliam | 19.1% |
| Girton | 28.1% |
| Gonville and Caius | 19.8% |
| Homerton | 21.5% |
| Jesus | 16.2% |
| King's | 15.3% |
| Lucy Cavendish | 25.8% |
| Magdalene | 21.2% |
| Murray Edwards | 31.8% |
| Newnham | 24.8% |
| Pembroke | 23.7% |
| Queen's | 17.4% |
| Robinson | 23.9% |
| Selwyn | 17.1% |
| Sidney Sussex | 25.4% |
| St Catharine | 15.2% |
| St Edmund | 24.1% |
| St John | 17.5% |
| Trinity | 19.3% |
| Wolfson | 14.2% |
From the table above we can denote that Murray Edwards college has the highest acceptance rate (31.8%) while Downing college has the lowest acceptance rate (13.3%).
University of Cambridge Admission for international students
The University of Cambridge admits a good percentage of students from countries outside the United Kingdom every year. This helped the institution develop a diverse community of students.
The Cambridge University acceptance rate for international students is 21.4%. This means that out of every 1000 international applicants only 214 applicants are offered admission.
Although it seems like Cambridge is just more difficult for international applicants, this isn't true. That's just the nature of the institution, your 3.8 GPA which you think is gonna get you in may just be the median of all applicants.
When it comes to international admissions China seems to have the highest acceptance of 23.8% followed by Singapore (11.5%). The acceptance rate for American applicants is about 4.7%.
While you may already know that studying abroad at a prestigious university is going to be expensive, there are some other things you should know about the University of Cambridge admission requirements for international students.
Australian Tertiary Admissions Rank: Minimum score of 99.
Chinese University Entrance Examination: You need to be among the top 0.1%.
European Baccalaureate: Minimum of 85% overall.
French Baccalaureate: 16 out of 20 is required.
German Abitur: Minimum of 1.1 overall in subjects related to your course.
Welsh Baccalaureate: 3 A Levels must be studied as options for the advanced diploma.
University of Cambridge Admission Requirements
Below are some of the criteria used by the admission committee at the University of Cambridge when reviewing applications.
For Undergraduate Applicants
For Postgraduate Applicants
What GPA is needed for Cambridge?
You need a minimum GPA of 3.7 on a 4.0 scale to get into Cambridge University. This means that anyone dreaming of studying at this institution must have a first-class or a very strong second-class upper honors degree.
Remember that GPA is just one out of the many admission requirements used by the University of Cambridge. Let's just say it's a cutoff, you don't expect them to review an applicant with a very low GPA or bad grades.
Now don't get me wrong, having a 4.0 GPA does not guarantee your admission, especially if you are lacking in other areas. If you know your GPA is below-average, make sure your standardized test scores are almost perfect and your essays great.
Is Cambridge hard to get into?
Yes, getting into Cambridge University is hard but not impossible. Want to know how difficult it is to be offered admission to study at Cambridge? Only 1 in every 7 applicants is admitted, mind you all of these 7 applicants have above-average grades and scores.
We all know that the University of Cambridge is one of the most competitive institutions in the United Kingdom and more brilliant applicants equate to more competition. Also, some colleges are more competitive than others when it comes to admissions.
It is also worth noting that your course of study is a primary determinant of how hard it is to get in. For example, getting into the University of Cambridge school of clinical medicine is harder than in the school of Arts and Humanities.
If you are not ready to study and grind for months like your life depends on it maybe you should consider applying to a less competitive UK university. Also, note that the interview may be a determinant of whether you get in or not, especially if your metrics are great.
Cambridge University Acceptance Rate FAQ
I am sure you now know the admission statistics for the University of Cambridge. let's cover some of the frequently asked questions on this topic.
How smart do you have to be to get into Cambridge?
You don't need to be super bright or the next Albert Einstein or William James Sidis to get into Cambridge University. All you need is to be intelligent and passionate about your field of study.
Do you need 4 A-levels for Cambridge?
No, you don't need 4 A-Levels to get into Cambridge. Although it's not part of the criteria used for admission, it may be considered if submitted.
Do Cambridge care about GCSEs?
The admission committee at the University of Cambridge does not care about how many As you have in your GCSE results. As far as your UMS points in AS are reasonable, you'll be just fine.
Hopefully, we've covered everything anyone needs to know about the Cambridge University acceptance rate and admission requirements for prospective students. Sharing this article goes a long way for us, it takes less than a minute.