In this article, you will get to know the SDSU acceptance rate and admission requirements.
San Diego State University is one of the best universities in California and one of the most innovative institutions in the country. With lots of majors and preprofessional programs, it's one of the most sought-after institutions.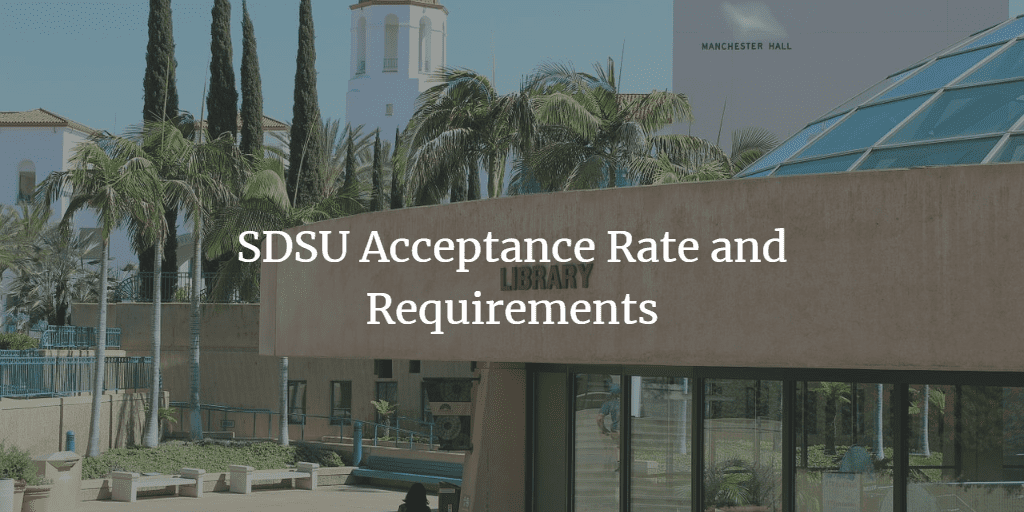 Becoming an Aztec is no child's play. Do you think you have what it takes to gain admission to San Diego State University?
Let's find out.
SDSU acceptance rate for all students
The SDSU acceptance rate for the class of 2026 is 32.1% with a 22.1% yield rate. This means that out of the 106,000 applications, about 34,026 applicants will be offered admission.
When compared to the admission stats for the class of 2025 the number of applications increased by 2.3% and the acceptance rate dropped by 5.8%.
| Class | Acceptance Rate |
| --- | --- |
| 2026 | 32.1% |
| 2025 | 37.9% |
| 2024 | 36.7% |
| 2023 | 34.1% |
| 2022 | 34.6% |
The acceptance rate for the Weber's Honors College is 13% with an average weighted GPA of 4.42.
San Diego State University's waitlist acceptance rate is 10.2%, so if you are on the school's waitlist, don't lose hope. Note that SDSU does not offer an early decision or early action admission plan.
SDSU's transfer acceptance rate is 29.7%. Transferring from a community college might not be a bad idea after all.
Transfer applicants must have at least 60 transferable semester units and military service credits can also be transferred. Admitted transfer students are about 80% locals and 20% everywhere else.
This means that transferring from a local community college increases your chances of getting into SDSU.
San Diego State University acceptance rate by College
San Diego State University currently has 8 colleges. If your major falls under any of these colleges, you should have an idea of what the competition is like.
| College | Acceptance Rate |
| --- | --- |
| Arts & Letters | 44.4% |
| Business | 37.4% |
| Education | 43.8% |
| Engineering | 41.5% |
| Health and human services | 23.7% |
| Professional studies and fine art | 37.1% |
| Sciences | 32.5% |
| UG Studies | 48.3% |
The college of UG studies is the SDSU college with the highest acceptance rate. This means that majors in this college like liberal studies are less competitive as compared to majors in the college of health and human services.
Why is SDSU acceptance rate so low?
San Diego State University's acceptance rate is low because they want to make the most of its resources. SDSU is fully committed to the education of every student.
San Diego State University's acceptance rate is not too low. Although its acceptance rate is lower than that of Cal poly, they are different institutions.
In 2011, the university had an acceptance rate of about 28.7% which is even lower than its admit-rates in the last 5 years. The low admit rate during 2009-11 may have been caused by the California budget crisis.
Even since SDSU has been discarding some requirements for admission, the number of applications increased.
What GPA do I need to get into SDSU?
Admitted SDSU students (freshmen and transfer students) have an average GPA of 3.84. This implies that anything less than a 3.0 won't do it.
San Diego State University uses CSU's GPA weighting system. Your grades in your 10-11th high school grades are weighted to arrive at the CSU-capped weighted GPA.
Try to get as many A's as possible in high school. Note that OOS Honors are not recognized by the CSU system and only AP or IB courses will get extra weighting.
For some majors, your grades or GPA in some courses are considered for admission. For example, STEM majors consider your GPA in math and science courses. All STEM majors require a high GPA.
When it comes to GPA requirements for transfer students, each major has its minimum GPA. For example, aerospace engineering needs 2.70 while biology requires 2.80.
Calculating GPAs for transfer students is more complex since your community college GPA and high school GPA are used. The minimum grade you can have is 'D'.
Is SDSU hard to get in?
It's hard to get into SDSU whether as a freshman or transfer student. The admission process seems to be random even though it's not.
Your eligibility index which is calculated from GPA and test scores is used to determine if you have a chance to study at San Diego State University. It's all about being competitive.
Your major says a lot about your chances of getting into SDSU. Some of the hardest majors at San Diego State University are Nursing, Biology, and computer science.
Let's take nursing as an example, this major has an acceptance rate of 5%. Also, only a few transfer students are admitted to the nursing major.
Here are some of the things considered for admission at San Diego State University.
Some majors also have special requirements applicants must meet for admission. For example, Dance, Music, and Theatre-Arts performance require that applicants must pass an audition.
On the other hand, Nursing requires a minimum grade of 'B' in high school biology, chemistry with lab, and intermediate algebra. This is why you shouldn't compare someone that gained admission into nursing vs one that gained admission to study liberal studies.
Some of the things not considered for admission at SDSU are but not limited to.
Hopefully, this article has explained everything you need to know about the SDSU acceptance rate and its GPA requirements. Share this post with others and don't forget to subscribe to our newsletter.