Ever wondered what the best Polytechnics in Singapore are in 2022?
Singapore has been a place of interest for many educational enthusiasts. The system of education in the country is rated among the best globally. Many students abroad usually prefer pursuing further education in Singapore, as a result of the nation's prestige in education.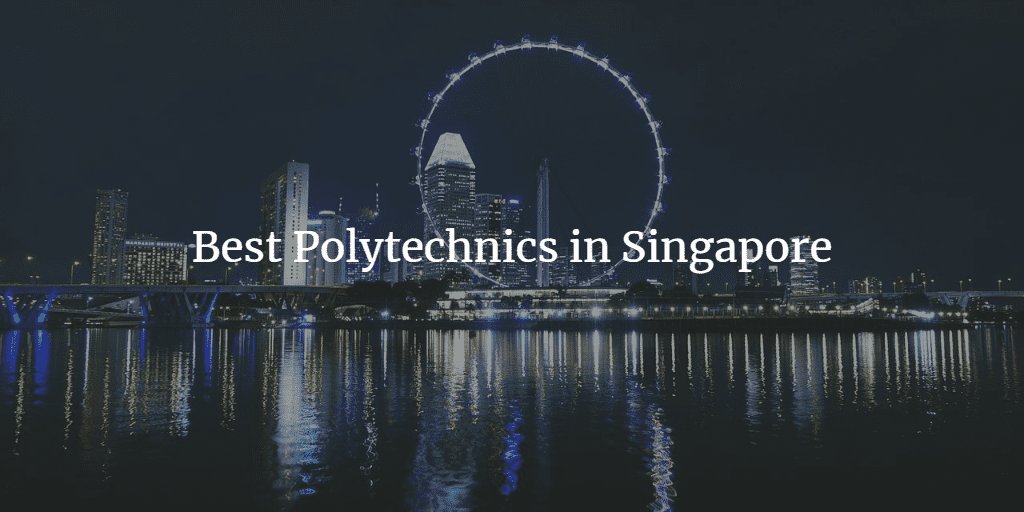 If you are planning to attend a polytechnic in Singapore to further your education to a tertiary level, then you should read this. This article will consist of the list of the Best 5 Polytechnics in Singapore, their academic schools, programs, and how to begin your application as soon as possible.
Before we proceed, I will want you to know that there are only five Polytechnics in the whole of Singapore. You might have wanted to explore different Singapore Polytechnic options, but unfortunately, there are not many of them. We have just five.
As a result of this, I will focus on these five polytechnics in Singapore and how you can apply to them. In addition, the academic schools, admission requirements, and other important information will be included in this writing. Please kindly pay attention to every detail.
Before we move into the details of the Best Polytechnics in Singapore. There is something else you need to know about Polytechnics in Singapore.
You should be aware that its polytechnics are taken seriously as it is a very important part of the Singapore education system.
Polytechnics are necessary for teaching practical knowledge to students, making them able to apply what they have learned and knowledge while working. In addition, polytechnics provide a solid springboard for students.
Here is what this means. Students who graduate from polytechnics will find it easier to apply to popular polytechnics within or outside Singapore.
The Singapore Polytechnic system is very simple. Every course or program offered in the polytechnics lasts a maximum of 3 years.
After graduation, the students will obtain a Diploma that is widely recognized. Graduates can use this Diploma in Singapore and other countries like the United States, United Kingdom, Australia, and China, to mention a few.
Best 5 Polytechnics in Singapore
Just as I mentioned earlier, there are just 5 Polytechnics in Singapore, and are all funded by the Singapore Government. They include;
Singapore Polytechnic
Nanyang Polytechnic
Ngee Ann Polytechnic
Republic Polytechnic; and
Temasek Polytechnic.
Being called polytechnics, does not make them or keep them at an interior level when compared to internationally renowned universities in terms of teaching quality or campus facilities. Everything needed to aid quality education is provided for the students and management.
The 5 Polytechnics took decades to develop to the level and standard they are today and have become the world's top high-end vocational and technical institutions to export talents. So what makes these polytechnics in Singapore so special? Well, we will find out now.
1. Singapore Polytechnic
Singapore Polytechnic is the most popular polytechnic in Singapore. It was established on October 27, 1954, by the Singapore Ministry of Education at the time.
To date, it is still under the purview of the ministry. It is the first and the oldest polytechnic in Singapore.
Another thing to know about Singapore Polytechnic is that it offers full-time diploma courses and a range of continuing education programs. The Polytechnic is made up of 11 Academic schools, including;
School of Architecture and the Built Environment (ABE)
SP Business School (SB)
School of Chemical and Life Sciences (CLS)
School of Computing (SoC)
School of Electrical and Electronic Engineering (EEE)
School of Life Skills and Communication (LSC)
School of Mechanical and Aeronautical Engineering (MAE)
School of Mathematics and Science (MS)
Professional & Adult Continuing Education (PACE) Academy
Media, Arts and Design School (MAD)
Singapore Maritime Academy (SMA)
Please note that the Professional & Adult Continuing Education Academy or PACE Academy, which is a school at Singapore Polytechnic is a multidisciplinary Continuing Education and Training (CET) Academy offering CET programs for adults, which are organized both online and in classrooms.
Singapore Polytechnic boasts of over 15,900 students on its 38 ha (94 acres) campus.
Notable Alumni
Tanya Chua – Singaporean singer
Taufik Batisah – Singaporean singer, Singapore Idol winner
Kelly Poon – Singaporean singer
Shih Choon Fong – Singaporean college administrator
Chai Keong Toh – Singaporean computer scientist, engineer, and professor
Cedric Foo – Singaporean politician
Liang Eng Hwa – Singaporean politician
Also Read:
2. Ngee Ann Polytechnic
Boasting over 14,800 students, Ngee Ann Polytechnic is also among the Best 5 Polytechnics in Singapore. The post-secondary education institution which was also created by the Ministry of Education in 1963, is a world-class comprehensive public higher institution.
Ngee Ann Polytechnic specializes in Science, Engineering, and film and television media. Many students at home and abroad have seen Ngee Ann Polytechnic as a major source of attraction.
The polytechnic has a strong faculty and strict school spirit making it a choice for many. Ngee Ann has only 8 academic schools, namely;
School of Business & Accountancy
School of Engineering
School of Health Science
School of Infocomm Technology
School of Design & Environment
School of Humanities & Social Sciences
School of Film & Media Studies
School of Life Sciences & Chemical Technology
The polytechnic offers up to 42 full-time diploma courses for students through the 8 academic schools; Accountancy, Banking & Finance, Business Studies, International Trade & Business, Design, Aerospace Engineering, Electrical Engineering, Arts Business Management, etc.
There are also part-time programs for adult learners through the CET Academy. Just like Singapore Polytechnic, Ngee Ann Polytechnic also offers these programs.
The CET Academy was established in 1985, and now trains more than 10,000 adults and conducts over 200 courses every year.
Ngee Ann Polytechnic is among the most-awarded polytechnics in Singapore. It was conferred the Singapore Quality Class Star Award for demonstrating business excellence.
In 2014, the Polytechnic was also awarded the President's Award for the Environment.
Notable Alumni
Alan Tam – Hong Kong singer and actor
Alaric Tay – Singaporean actor
Andie Chen – Singaporean actor
Anthony Chen – Singaporean film producer
Boo Junfeng – Singaporean film producer
Cruz Teng – Singaporean television presenter
Don Wee – Singaporean politician
Derrick Hoh – Singaporean singer
Gerald Koh – Singaporean radio DJ
Hazlina Abdul Halim – Singaporean television presenter
3. Temasek Polytechnic
Temasek Polytechnic is the third of the 5 best Polytechnics in Singapore. It is also one of the most comprehensive colleges in the country.
The Polytechnic is known to be in a leading position in teaching methods, teaching facilities, and teaching management.
Temasek Polytechnic was established on 6 April 1990 on a 30-hectare plot near the Bedok Reservoir in the Eastern part of Singapore. Temasek Polytechnic offered diploma programs in specialized areas of study like Law & Management, upon completing three years of academic studies and a compulsory industry internship.
Temasek Polytechnic features 37 full-time and 40 part-time diploma courses, spread over 7 academic schools. Currently, Temasek Polytechnic has approximately 14,000 full-time students and more than 1,200 academic staff. The 7 academic schools are Temasek Polytechnic are;
School of Applied Science
School of Business
School of Design
School of Engineering
School of Humanities & Social Science
School of Informatics & IT
Temasek Tourism Academy
Temasek Polytechnic offers 37 full-time diploma courses in the areas of applied sciences, business, design, engineering, humanities & social sciences, and informatics & IT.
Notable Alumni
Priscelia Chan – Singaporean actress
Sylvia Ratonel – Singaporean singer, Singapore Idol finalist
Ferlyn Wong – Singaporean singer
Faris Ramli – Singaporean footballer
Hady Mirza – Singaporean singer, Singapore Idol, and Asian Idol winner
Teo Ser Luck – Singaporean politician
Xu Bin – Chinese actor
Dasmond Koh – Singaporean television host, founder of Noontalk Media
Hong Ling – Singaporean actress
Hany Soh – Singaporean politician
Wan Rizal Wan Zakariah – Singaporean politician
4. Nanyang Polytechnic
Nanyang Polytechnic is also a post-secondary education institution in Singapore. Just like Singapore Polytechnic, it was also established and managed under the purview of the Ministry of Education in Singapore. Nanyang Polytechnic was established in 1992.
The polytechnic is however a science and engineering-based higher education institution. It is just like a more specific establishment from the Singapore Polytechnic.
It is the second of the top 5 Polytechnics created by the Singapore government. The aim behind its establishment was to meet the rapid economic growth and increasing demand for talents in the country.
Nanyang Polytechnic has advanced teaching facilities and a beautiful teaching environment, making it one of the best institutions to provide students with quality education and training courses, to prepare the students for future Life and employment. Nanyang Polytechnic has 7 schools. They include;
School of Business Management
School of Chemical & Life Sciences
School of Design
School of Engineering
School of Health and Social Sciences
School of Information Technology
School of Interactive & Digital Media
Notable Alumni
Hariss Harun – Singaporean footballer
Romeo Tan – Singaporean actor
Carrie Wong – Singaporean actress
Lionel Lewis – Singaporean footballer
Vanessa Peh – Miss Singapore World 2018
Anupama Aura Gurung – Miss Nepal Earth 2011
Hossan Leong – Singaporean actor
Helena Wong – Singaporean weightlifter
5. Republic Polytechnic
Republic Polytechnic is the 5th best National Polytechnic fully funded by Singapore's Ministry of Education. It was established in 2002 and is the first and only polytechnic in Singapore to use the problem-based learning (PBL) pedagogy for all its diploma programs. So, how many diploma programs are offered by Republic Polytechnic?
Republic Polytechnics offers up to 37 full-time diploma programs to students while having 7 academic schools and 1 academic center including; the School of Management and Communication, School of Applied Science, School of Engineering, School of Sports, Health and Leisure, School of Hospitality, School of Infocomm, School of Technology for the Arts.
The Republic Polytechnic's project team began its operation on the premises of the Data Storage Institute, the National University of Singapore in 2002. It later moved into the Tanglin campus which was formerly occupied by the Ministry of Education, Singapore in July 2002.
The polytechnic had its first intake of students in 2003 before moving to the current Woodlands campus at Woodlands Avenue 9 in 2007.
Having over 13,000 students, Each diploma awarded by Republic Polytechnic is recognized for articulation into a bachelor's degree at a university in Singapore or a top university across the world.
Notable Alumni
Yip Pin Xiu – Singaporean swimmer, five-time Paralympics Gold medallist
Benjamin Kheng – Singaporean singer
Tosh Zhang – Singaporean actor
Shanti Pereira – Singaporean track and field athlete
Gabriel Quak – Singaporean footballer
Ian Fang – Chinese actor
Valen Low – Singaporean arm wrestler
Loh Kean Yew – Singaporean badminton player
How to apply to Polytechnics in Singapore
Now that you know the top 5 Polytechnics in Singapore, I believe the next thing to do is to apply to whichever one you are comfortable with. Before you can be able to study at any Polytechnic in Singapore, you have to apply first, and gain admission.
This is what I will show you how to do now. Many wish to apply but do not know how to go about it. Follow this procedure to apply to Polytechnics in Singapore;
From the list above, pick a Polytechnic that you are comfortable with.
Next, choose a diploma course that suits you and your qualifications.
Go ahead to check the admission requirements for the course you have picked. If you meet the requirements, you can go ahead with the application.
Prepare the application materials, such as the application form, a valid passport, and its copy, high school transcript, proof of funds, etc.
After this, you should submit your application to the Polytechnic you have chosen and wait for a reply from them.
Conclusion
Unlike Polytechnics in the United States of America and the United Kingdom, Polytechnics in Singapore take in students after they complete their secondary school education, which is after at least 10 years of formal education.
Diplomas at Singapore Polytechnics are usually in specialized areas of study, such as Law, Biomedical Sciences, Accountancy, etc.
Students who finish Polytechnics in Singapore are sought after for entry-level professional positions or are well-prepared to complete university degrees.