Would like to know what the best HVAC schools are and how much these schools cost in 2022?
The Heating, Ventilation, and Air Conditioning (HVAC) industry is one of the underrated and fastest-growing industries in the world with market size of about $240.8 billion. The average HVAC technician makes about $57k per year while experienced and skilled technicians can earn more than $100k annually.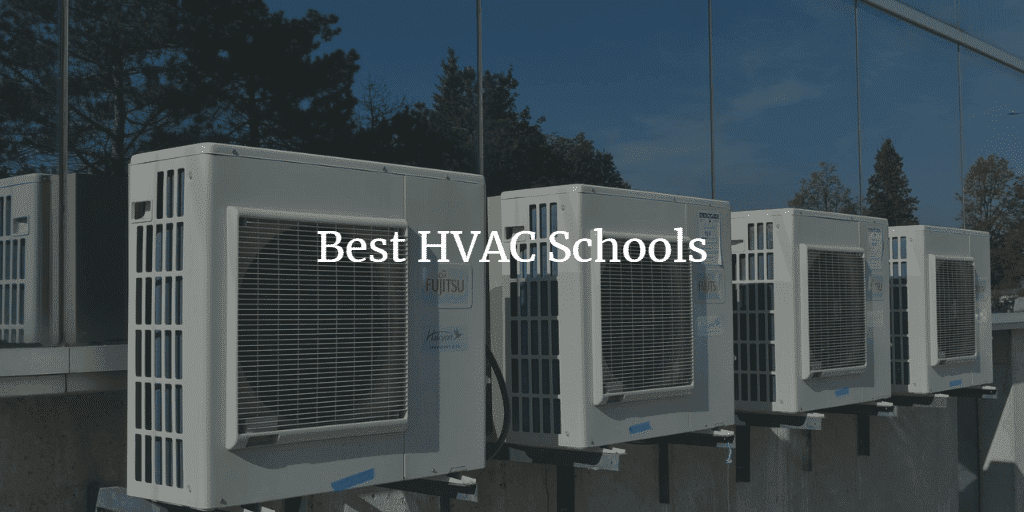 There is nothing like being unemployed in this sector, it's either you work for companies or you are self-employed. The latter is not recommended for beginners.
You need both school and work experience to become a good technician. You can gain more experience while working as an apprentice for a local HVAC company or joining a union.
Best HVAC Schools in 2022
Below are the top 11 best HVAC schools for aspiring technicians in 2022. The cheapest HVAC school on this list is Ashworth College.
Some of these institutions offer hands-on training that will help you gain valuable experience in the Heating, Ventilation, and Air Conditioning industry.
Apart from the fact that HVAC technicians make more money than carpenters, plumbers, and electricians, it's an interesting career. Let's take a look at the best institutions for HVAC.
1. University of Northwestern Ohio
The University of Northwestern Ohio is unarguably one of the best HVAC schools in Ohio. They offer diploma and degree programs in Heating Ventilation Air Conditioning, and Refrigeration (HVAC/R) under the College of Applied Technologies.
These programs will prepare you for entry-level positions in the industry. They are fully accredited by the Partnership for Air-conditioning, Heating, Refrigeration Accreditation (PAHRA).
UNOH's HVAC/R diploma program lasts for about 16 months while its degree program takes about 20 months to complete. The degree program is different because it also focuses on general education courses and has more credit hours.
Here are some of the things you learn in HVAC programs offered by the University of Northwestern Ohio.
Apart from the $20 application fee, students are to spend $16,200 on tuition & fees and $1,750 on books and supplies.
2. UC Berkeley Extension
The University of California Berkeley Extension offers a certificate program in HVAC for people who are interested in learning everything that has to do with designing energy-efficient HVAC systems. Its curriculum which consists of 4 required courses and 3 electives has been reviewed by the UC College of Environmental Design.
Although there are no prerequisites for this program, having previous HVAC experience or an engineering degree is a plus. Registering for this program is simpler than expected and can be completed online after paying the non-refundable registration fee.
The estimated cost for this HVAC program at UC Berkeley Extension is $5,080 excluding the registration fee and course materials expenses. Upon completion of the program, you can easily get your certificate by contacting the department office.
3. Benjamin Franklin Institute of Technology
Founded in 1908, BFIT also known as Benjamin Franklin Institute of Technology is one of the best HVAC schools in Massachusetts. It may interest you to know that they have an HVAC&R Technology certificate program.
If you would love to become a successful HVAC& technician, then this may be the perfect institution for you. Apart from getting an HVAC&R technology certificate after completing the program, you will also get an R-410 A certificate and an OSHA Safety certificate.
Here are some of the stuff you will learn;
You will also earn the credit hours required to sit for the Refrigeration Technician Examination. The institute also has an HVAC&R resource page for students that contains links to library databases, ebooks, and Professional Organizations.
The HVAC&R Technology program at BFIT comes for $8,475 per semester excluding tool charges, health insurance, and the compulsory technology fee.
4. Oklahoma State University Institute of Technology
Did you know you can earn an AAS degree in Air Conditioning and Refrigeration? I guess you don't.
In HVAC technology, you need not only knowledge but valuable experiences. Oklahoma State University Institute of Technology offers both in their air conditioning and refrigeration technology program.
Not only will you understand how to manipulate control platforms and design cooling systems, but you will also receive a guaranteed internship experience at real-world firms that can help you accelerate your career.
This is a 6-semester program that can help you become an HVAC technician, installer, or Stationary engineer at an affordable cost. Let's review what the program contains.
The HVAC program at OSU Institue of Technology cost $5,760. The institution has several financial aid programs for students who cannot afford tuition or other fees.
5. Northern Michigan University
NMU has one of the best HVAC training programs in the United States. They offer a 2-yer HVACR certificate program that can get you started in the industry and ready for employment.
Students will gain the required skills to start a career in residential and light commercial applications. You will also learn how to use the electrical testing device to test electrical circuits or components for continuity.
The HVACR degree at Northern Michigan University which is under the department of technology and occupational sciences helps you to become a professional in one of the fastest-growing industries in the world in just 24 months.
NMU's HVACR program costs about $20,812 per year, this means you will need a little above $40k to complete this program.
Also Read:
6. Excelsior College
Established in 1971, Excelsior College is one of the best online HVAC schools that provide adults with a better and more flexible way of learning. Although not required, it's recommended that you have a GED or high school diploma before taking this program.
Excelsior's HVAC/R program prepares students for entry-level work-ready certificates which will show employers that they understand everything about HVACR systems, troubleshooting, and maintenance.
I recommend applying for this program only if you're a beginner and have no HVAC certifications. You will be taught by an experienced HVAC instructor who has been in the industry for decades with numerous certifications.
What does the curriculum contain?
The HVAC/R program offered by Excelsior College costs about $8,945 per year.
7. Ferris State University
Ever wondered how you could take your HVAC career to the next level? Ferris State University is one of the best HVAC schools in the US offering a bachelor's degree in Heating, Ventilation, Air Conditioning, and Refrigeration.
Only those who have an Associate in Applied Science in HVACR Technology degree can apply for this program. The Bachelor of Science degree program focuses on energy efficiency and management in HVAC/R systems.
This 2-year program makes you more of an engineer than a technician teaching you how to make the HVACR systems perform at their max while conserving energy. Students will also learn the best ways to evaluate the performance efficiency of these systems.
The Ferris State University HVAC program tuition cost about $12,740 per year for Canadians and US residents and $20,552 per year for students from other countries.
8. Ashworth College
Among this list of the best HVAC schools, Ashworth College seems to be the cheapest online HVAC school. This course can be completed in about 4 months and will teach you everything you need to know before writing the EPA certification exam.
Their 4.8-star reviews do not lie, it is one of the most affordable online HVAC training programs in 2022. Apart from getting guides on the EPA certification exam, students will also get access to an active online community, thousands of sources for research, and lots of learning material.
The curriculum contains the following lessons.
Ashworth College HVAC training tuition costs about $799 or $999 (if you intend to pay monthly), you can contact them for more flexible payment options. This includes the cost of the EPA Section 608 Certification exam* proctored by the ESCO Institute.
9. Penn Foster College
Penn Foster College has an online HVACR Technician Career Diploma Program for beginners that can help students prepare for the EPA certifications. It is fully accredited and can be completed in less than a year.
Applicants must be at least 17 years of age at the time of application and have access to high-speed internet and a functional email address. Penn Foster's self-paced online HVACR program was created to prepare students for an entry-level career as HVACR technicians in the residential and light construction field.
Their online classes will help you learn about.
This program costs about $899 (if you are paying in full) or $1089 (if you prefer monthly payments). It includes your tuition, EPA certification, and digital textbook fees.
10. University of North Dakota
Established in 1833, the University of North Dakota is one of the top academic and research institutions in the United States. With over 13,000 students, UND offers almost 230 fully accredited academic programs which the online HVAC/R technician training is among.
This online course can be completed in less than 12 months and will help you to prepare for your NATE, EDA, or HVAC Excellence certification exams. You will also be taught by Mike Baker, one of the best instructors in the industry.
Its curriculum is similar to that of the Excelsior College HVAC program. Once you are done with the course, get ready to smash those certification exams and become a professional HVAC technician.
UND's online HVAC/R training costs about $11,982.96 per year with tuition and other fees included. Veterans, active-duty military, and dependents are qualified for reduced tuition rates.
11. Pensacola State College
Even though it's the last on our list, Pensacola State College is one of the best HVAC schools in Florida. They have an HVAC Vocational Certificate program that uses a combination of theoretical, simulation, and hands-on instruction.
This program will help you learn the skills required to get your NCCER (National Center for Construction Education and Research) certification in less than a year (full-time students) or more (part-time students).
Note that after completing this program you still need some months of experience before you can become a qualified HVAC technician, installer, or refrigeration mechanic. This doesn't mean you can't be employed right after graduation, you can assist experienced technicians while earning some money.
Pensacola's HVAC-VC program cost $85.74/credit hour for Florida residents, $114.58/credit hour for Alabama residents, and $342.96/credit hour for non-residents.
What is the highest HVAC certification?
The highest HVAC certification is the HVAC Excellence Master Specialist Level certification which is for experienced HVAC technicians. To get this certification, you must have a minimum of 3 years of field experience, pass the hands-on performance test and achieve a passing score on the related written professional level HVAC Excellence technician certification, (or equivalent NATE, RSES CM, SM, CMS, UA Star).
Trust me, it is not as easy as it sounds. The exams will test your knowledge and experience in the HVACR industry.
The second highest HVAC certification is the HVAC Excellence Professional Level certification. To get it you must have 2 years of verified field experience before taking the exams and pass 10 written exams (100 questions each).
In this industry, certifications matter but what most employers want is your experience. Just try to get as many certifications and experience as you can, you never know when they will come in handy.
Is an HVAC trade school a good idea?
Yes, going to an HVAC trade is a good idea. Heating Ventilation Air-conditioning and Refrigeration technology is rapidly evolving and guess what happens if you don't catch up.
You will probably become more and more irrelevant in the industry and miss out on a lot of good opportunities. Staying ahead of the curve and gaining more theoretical knowledge is the way to go.
By the way, going to an HVAC trade or vocational school is not as expensive as attending college for a bachelor's degree in HVAC. It's also a fast way to get some credentials and experience in the industry you can attend a trade school and complete your program in 6 months to 2 years.
Whether you want to get hired as an apprentice or attend a vocational school is up to you. Going the apprentice route will probably save you some money and what's even cooler is that you can do both.
Hopefully, this article has helped you know about some of the best HVAC schools in 2022 with their tuition fees and curriculum. You can share it with your friends and family, sharing is caring.