What are the universities that accept IJMB for admission in Nigeria and their IJMB cut off mark for all courses?
In this article, I talked about everything you need to know about the IJMB required points for medicine, pharmacy, law, nursing and other courses offered in Nigerian state, private and federal universities in 2022.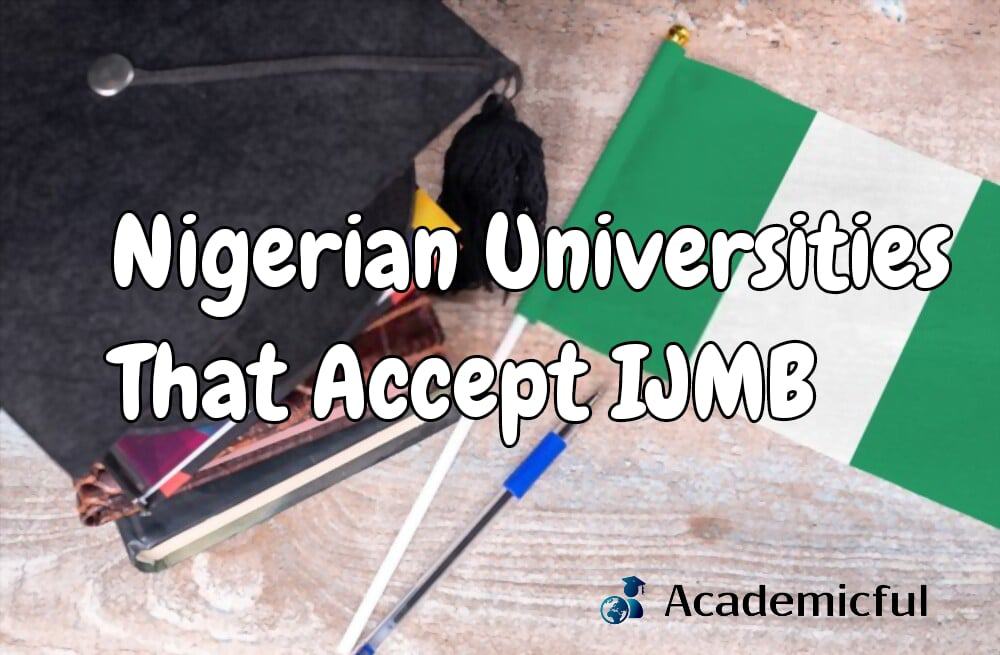 Without further ado, let's dive into it. If you haven't registered for the IJMB exam, check out this article.
Universities that accept IJMB and their points
Below are some of the Nigerian Universities that accept IJMB and their average cut off points.
| Institution | Required Points |
| --- | --- |
| University of Ilorin | 10 |
| University of Benin | 9 |
| Nnamdi Azikiwe University | 6 |
| Ahmadu Bello University | 10 |
| University of Uyo | 8 |
| Igbinedion University | 5 |
| University of Jos | 7 |
| Federal University Of Technology, Minna | 10 |
| Bayero University Kano | 8 |
| Plateau State University | 7 |
| University Of Maiduguri | 9 |
| Modibbo Adama University Of Technology | 7 |
| University of Abuja | 10 |
| University Of Agriculture, Abeokuta | 7 |
| Umaru Musa Yar'adua University | 9 |
How many points do you need to pass IJMB?
You need a minimum of 5 points to pass IJMB. However different faculties or departments have their required points.
For example, Engineering is 8 points, law is 11 points, medicine is 13 points while the average required IJMB points for other courses is 7. The more competitive your course is, the higher you need to score to gain admission.
Remember that the highest number of points anyone can get in IJMB exams is 16. It may look like a small number but it's not easy to come by.
Universities that accept IJMB for Medicine and surgery
Earning your MBBS degree in any Nigerian university requires hard work, perseverance and divine support. Here are some of the higher institutions that accept IJMB for Medicine.
University of Jos
Ahmadu Bello University
University of Ilorin
Bayero University Kano
Igbinedion University
Bingham University
You are going to spend 5 years in school to get your medicine and surgery degree if you use DE as opposed to 6 years if you go through the UTME route.
Only Ahmadu Bello University accepts IJMB for Nursing. For law, UNIUYO, UMYUK, Unilorin and ABU accepts IJMB for admission into 2nd year.
List of Federal universities that accept IJMB
Note that the University of Ibadan (UI) only accepts IJMB for admission into 100 Level so it's better to go the JAMB route.
State Universities that accept IJMB
Most universities in the Northern region of Nigeria accept IJMB for direct entry admission into 200 level.
For more information on the direct entry requirements for all universities in Nigeria, download the latest JAMB brochure PDF.
This article outlined the list of Nigerian universities that accept IJMB and their required points for admission in 2022. If you have any questions on the topic we discussed, feel free to leave a comment below.