How much is Tai solarin university of education school fees for 2022/2023 academic session for freshers and returning students?
Whether you just got admitted, an aspirant or you are curious about Tasued school fees, this article is for you.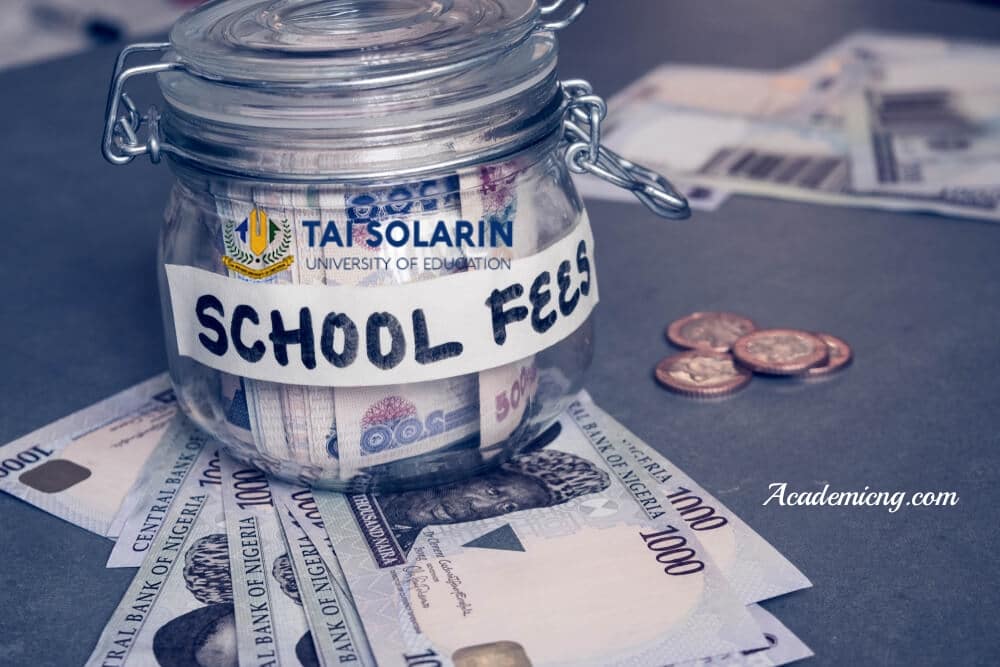 Let's get started.
Tai Solarin University Of Education School Fees For Freshers 2022
The school fee is 76,500 naira only. This is to be paid after you have paid your acceptance fee and registration fee.
Login to Tasued portal using your details to pay it using the payment methods available.
Note: The university does not accept installmental payments and you should can't fill your course form or sit for exams without paying your tuition fee.
How Much is Tasued Acceptance Fee 2022 ?
The acceptance fee is 60,000 naira only, this is a one time payment which is non-refundable.
You need to pay this fee to secure your admission in tai solarin university of education.
There's a deadline for the acceptance fee which you will see on the TASUED portal, make sure you pay before the closing date.
Other Fees For TASUED New Students
As a Fresher of Tai Solarin College of Education, you are also going to pay these fees. Most of them are compulsory for all new students.
Registration fee (25,000 naira) : This is for vocational studies and you are going to get a certificate for the skill you learnt when you graduate. You should pay it after your acceptance fee, it is compulsory.
Medical fee (5,000 naira) : Pay this after paying your school fee, acceptance and registration fees. You can't go for medical screening if you don't.
Hostel Fee (60,000 naira) : This is not compulsory, but only for those who want to live in the school hostel. You can get an apartment outside campus starting from 40k naira.
Student ID card (1,000 naira) : Make sure you don't miss capturing to get your identity card.
Tax Clearance (10,000 naira) :You can get this done in the tax office located in Ijebu.
Others include departmental fee, college fee, library fee, etc.
Tai Solarin College of Education School Fees For Returning Students
For the staylites, your school fees is the same as the one you paid in your previous session or level.
This means if you paid 76k last session, you are paying the same amount when you resume for the new academic session (unless the school management increase or reduce it).
Other Fees For TASUED Staylites
As a returning student, you are going pay the following fees apart from the tuition fees.
Accommodation Fee: If you are living in the school hostel, the fee remains the same every year. For those living outside campus, your accommodation fee may fluctuate every session.
Departmental Fee
College Fee
Hey, before you go share this article with other tasuedites like you. If you have any questions, drop them below.