I am sure you have probably watched Mike Rowe's shows on TV, but have you heard about the Mike Rowe Scholarship program for 2022-2023?
Well, in this article we will explain all you need to know about the foundation scholarship application process, requirements, deadline, and the amount it is worth in dollars.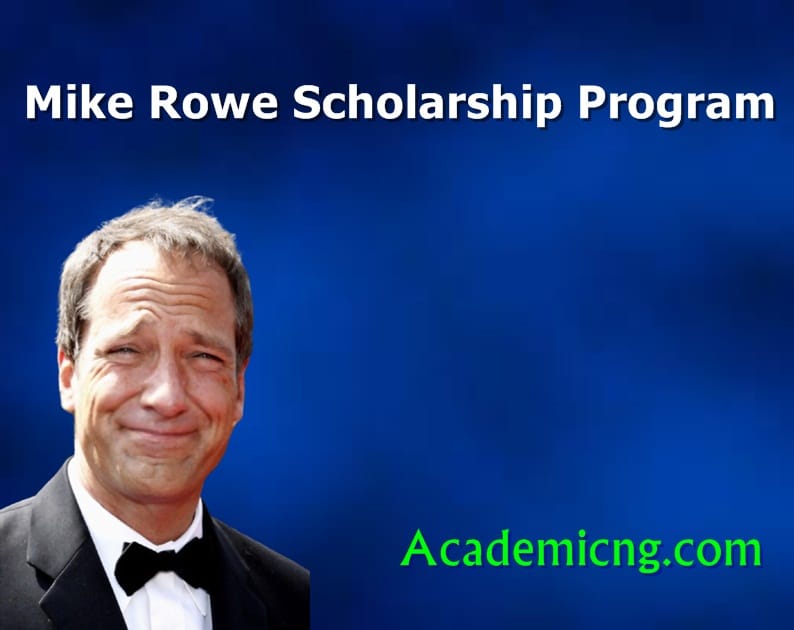 Don't forget to also watch the video on this page, it explains it better especially for visual learners (if you are one). If you love working or learning new skills that could help you in the future, then this opportunity is for you.
This scholarship is country-based (the US only), if you are a Canadian, you can check out the Loblaws scholarship program.
Enough of the chit-chat, let's get right into it!
About the Mike Rowe's Foundation
Since it was founded in 2008, the Mike Rowe's Foundation has helped over 1200 people and supported more than 19 skill trades in the United States.
If you are familiar with TV series Dirty Jobs, you will see that Mike has traveled around the country and he has worked with a lot of skilled workers.
Mike created the mikeroweWORKS Foundation to launch a national PR campaign for skilled labor about 14 years ago.
According to Mike:
America has become slowly but undeniably disconnected from the most fundamental elements of civilization—food, energy, education, and the very nature of work itself.
The Mike Rowe's foundation is on a mission to help close the skills gap by challenging the things that discourage people from pursuing the millions of available jobs.
In summary, the foundation was established to help people get trained for skilled jobs that are in demand.
How much is Mike Rowe's scholarship worth?
Actually, there is no specified amount per winner for this scholarship. However, it is worth a lot more than you think.
It is a one-time scholarship award and has benefits worth about $400k. Now, that's a lot of money!
The Mike Rowe Foundation has awarded over $5.2 million worth of scholarships and grants since it was created to date.
Read Also:
Mike Rowe Scholarship Requirements 2022
What makes you eligible to be able to apply and win this scholarship? Find out below:
This scholarship is meant for only people in the United States of America.
You must be an high school freshman, undergraduate or graduate student.
High school seniors, graduates, or GED equivalent who are enrolled or intending to enroll in a licensed two-year college, vocational, technical school, or other approved technical institute in the US.
Enrolled or planning to enroll in an approved vocational or comparable trade-related program. You may view the list of approved applications (https://www.scholarsapply.org/uploads/mrethic/trades.pdf)
You must be planning to finish a trade-related program.
Past winners of the Mike Rowe Scholarship Foundation Educational Scholarships are not eligible to apply mike Rowe sweat pledge.
You are to submit the following additional documents:

Grades transcript.
A completed school tuition form.
2 completed questionnaire of your references.
A copy of page 1 from the most recently filed IRS Form 1040.
How to apply for the Mike Rowe scholarship 2022
If you are eligible for this scholarship, follow the steps below to apply for Mike's foundation scholarship program.
Visit the scholarship official website (www.mikeroweworks.org/scholarship/)
Go through the programs and instructions.
Sweat the S.W.E.A.T Pledge on the website.
Give answers to the three questions given to you.
Write a good essay on the topic given to you (it shouldn't exceed the word limit).
Submit your two references (these people can be your teacher or boss at work).
Create a short 45-60 seconds video with "2022 Work Ethic Applicant, your First name, and last name. Don't make use of any copyrighted or trademarked materials in the video.
After you are done with the video, upload it to Youtube and make sure it is made public and can be accessed by anyone.
Verify the costs of your tuition and other fees in your application.
Upload your school transcript along with the application form. This transcript can be that of your high school or college.
Submit proof that shows your financial status or information. This is very important if you need the scholarship.
Complete your application and hope for the best.
2022 Application Deadline
There is currently no closing date for the 2022 application form. However, make sure you apply early enough.
You can also subscribe to our newsletter or check the foundation's website for the latest updates on this scholarship.
How many winners of the Mike Rowe scholarship each year?
The list of the winners or recipients of the scholarship award is posted on their website every year.
The recipient is listed with their name, school city, and state. A lot of people apply for this scholarship which makes it even more competitive.
Last year, there were about 200 winners of the Mike Rowe scholarship.
Share this article with your friends and colleagues. You can also nominate any of your friends that applied for the scholarship.