It has now become a thing of confusion because some people say Colgate is one of the Ivy League schools while some argue that it isn't.
Who then do you believe?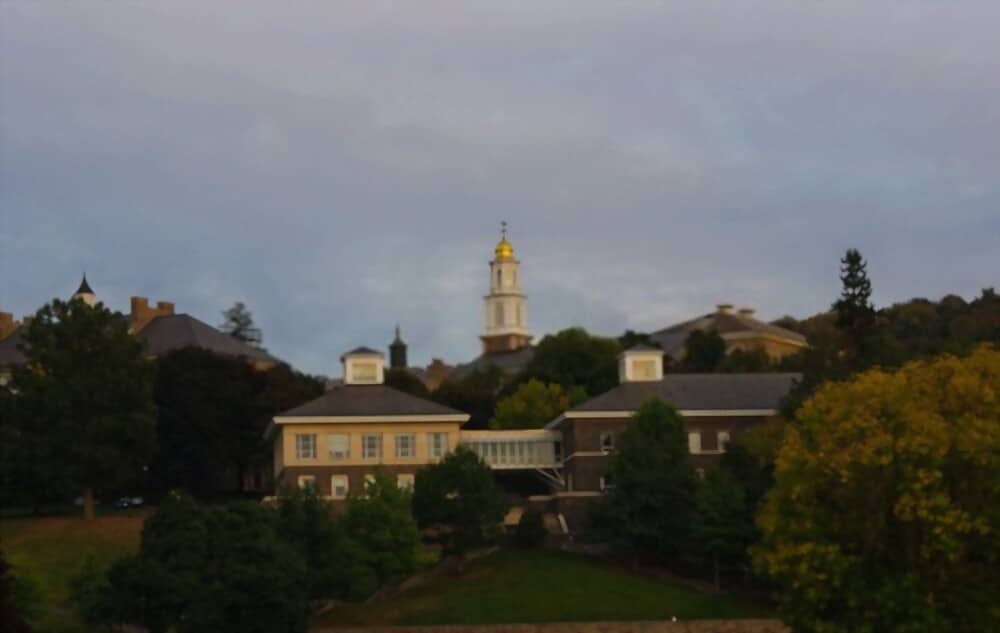 This article will tell you the exact truth backed up with facts.
Enjoy!
History of Colgate University
Colgate University was established in the year 1819 and was named Baptist Education Society of the State of New York and operated under that name until 1823.
It was renamed Hamilton Theological and Literary Institution, often called Hamilton College (1823–1846), then Madison College (1846–1890), and its present name which is Colgate University since 1890. The University is located in Hamilton, New York, a town in central New York in Madison.
Colgate University is among the top 100 most selected universities in the United States. The architectural theme of the campus makes it rank as one of the most beautiful campuses in the nation.
Students have many opportunities to further explore their field through research or abroad programs. This interdisciplinary education inculcates many desirable skills including intellectual curiosity, a commitment to rigorous discourse, and the pursuit of knowledge.
What is the Ivy League?
The term Ivy League refers to the 8 schools as a group of elite colleges with records of academic excellence, social elitism, and selectivity in admitting students. The Ivy League is also known as the Ancient Eight, it is an American collegiate athletic conference comprising eight private research universities in the Northeastern United States.
The Ivy League includes Brown University, Columbia University, Cornell University, Dartmouth College, Harvard University, the University of Pennsylvania, Princeton University, and Yale University. Ivy League was established in 1954, Its headquarters is located at Princeton, New Jersey.
Ivy League schools are viewed as some of the most prestigious universities in the world. In 2022, the United States News and world reports, that all right universities were among the top 15 with four of them ranking in the top five.
All eight Ivy League schools are members of the Association of American Universities, the most prestigious alliance of American research universities.
Ivy League universities have some of the largest university financial settings in the world, allowing the universities to provide excess resources for their academic programs, financial aid, students, and research endeavors.
Each university receives millions of dollars in annual research funding from both the federal government and private sources. The Ivy League schools are the most sought-after institutions in the world. These eight private schools have widespread name recognition and social prestige.
This group contains some of the oldest universities in education, promising mind-blowing opportunities for students to become the best in their careers. In particular, the Ivies are known for their ability to churn out well-rounded future leaders, Nobel Prize winners, and high-achieving graduates.
Is Colgate an Ivy League school?
Colgate University is a private liberal arts college in Hamilton, New York. Colgate is not a member of the Ivy League athletic conference and therefore is not considered an Ivy. But, Colgate competes in the NCAA Division I Patriots League.
While Colgate has a smaller reputation globally, when compared to the Ivies, it is still highly ranked in liberal arts. In a book published by two education experts Howard and Matthew Greene, Colgate is ranked as a Hidden Ivy.
The Hidden Ivies are colleges and universities considered to be rivals with the eight Ivy League schools without being part of the group. The schools offer similar academic opportunities to students but don't get easily noticed because of their lack of popularity when compared to the Ivy League.
Colgate was selected based on the comprehensive academics, rigorous admissions process, financial aid, and student experiences.
Newsweek, a widely distributed magazine, coined the term New Ivy to define another group of elite universities in 2006. Ranging across the country from New York to California, these schools provide great academics and first-rate faculty members.
Colgate is included in this group of New Ivies, recognized as a world-class school that is suited to educating the top students across the globe. Based on admission statistics, and interviews with administrators, faculty, students, and alumni, Colgate is considered on par with Cornell and Dartmouth.
Why is Colgate often confused as an Ivy League School?
Ivy League schools are known for their highly selective admissions, academic excellence, well-respected professors, ample research opportunities, and promising career opportunities. Colgate shares a lot of these qualities and is considered as standard as these prestigious universities.
While on campus, undergraduates have plenty of opportunities to participate in an advanced study funded by the institution.
Colgate students contribute to valuable research projects across the full academic spectrum. From the natural sciences to the humanities, Colgate students can make groundbreaking discoveries like many of their Ivy League peers.
Through research and study abroad opportunities, the experience at Colgate helps students earn the most competitive jobs and graduate school placements.
The university produces students who can embrace growth and change, lead, and change society, skills that the top employers demand. Like the most prestigious schools worldwide, a degree from Colgate opens up doors for students with its reputation for academic excellence.
Since Colgate almost has standards as the Ivy League schools, it is always mistaken as one of them, which isn't the truth.
Why you should study at Colgate University?
Unlike other universities, Colgate is less competitive and admission fees are lower. There's an 80% chance that if you enroll to study in one of the Ivy League schools, you might not be picked due to their competitive nature.
Colgate's influence goes beyond statistics, but the numbers do tell a convincing story.
9:1 Student-Faculty Ratio
100% of Demonstrated Need Met by Financial Aid
56 Undergraduate Major Programs
200+ Student Clubs and Organizations
The acceptance rate of Colgate university is 27%.
Colgate University Rankings
Niche rankings are based on rigorous analysis of key statistics from the U.S. Department of Education and millions of reviews.
Best Liberal Arts Colleges in America: 14 of 210
Best Colleges for International Relations in America: 15 of 410
Best Value Colleges in America: 23 of 1,601
What other Ivies are there?
The Public Ivies
The Public Ivies offer an Ivy League education at a public university price, according to Richard Moll, who coined the term in his 1985 book "The Public Ivies." These institutions can compete with the actual Ivy League in terms of academic quality. Meanwhile, Public Ivies is different from the Ivy League in some ways.
Many Public Ivies are quite bigger than the Ivy League schools. While the undergraduate enrollment at the eight Ivies is around 8,500 students, many Public Ivies have far bigger undergraduate classes.
The Public Ivies also report smaller endowments than the Ivies and these endowments must stretch further because of their larger student bodies. The public university simply can't match a real Ivy in terms of financial aid for students.
One huge advantage of the public ivies is their lower tuition rates. While every Ivy League school charges more than $50,000 in annual tuition and fees, many of the Public Ivies cost around just $10,000 per year, although for in-state students.
Some public ivies include:
Binghamton University
Indiana University Bloomington
Miami University
Ohio State University amongst others.
The Little Ivies
They're other schools compared with the Ivy League apart from the Public Ivies. The "Little Ivies," which consist of private liberal arts colleges, offer both academic rigor and selective admissions similar to that of the Ivy League and Public Ivies.
The Little Ivies include all the schools of the New England Small College Athletic Conference and several schools outside New England. Elite liberal arts institutions, like Amherst College, Vassar College, and Tufts University, typically appear on Little Ivies lists.
While many of the Public Ivies enroll tens of thousands of students, the Little Ivies usually have much smaller student bodies. Amherst, Bowdoin College, and Swarthmore College all enroll fewer than 1,850 students.
Also, the Little Ivies often focus exclusively on undergraduate education. While the Ivy League and Public Ivies offer numerous graduate programs, many of the Little Ivies only offer undergraduate degrees.
Amherst College
Bates College
Bowdoin College
Colby College
Connecticut College
Hamilton College
Haverford College
Lafayette College
Middlebury College
Swarthmore College
Trinity College amongst others
The Ivy Plus
The Ivies aren't the only renowned private schools that consistently rank in the top 20. A lot of people use the phrase "Ivy Plus" to refer to both the Ivies and a handful of similarly prestigious schools, such as Stanford, MIT, the University of Chicago, and Duke.
Like the Ivies, these institutions are costly and highly selective, usually admitting fewer than 10% of applicants. They also offer prestigious alumni networks, large endowments, and lively traditions.
By now, you should have understood the real answer to "Is Colgate an Ivy League school?"
You should've also known the different Ivies there are and the schools under them. Colgate is not an Ivy League school but it is just considered a Hidden Ivy.
No matter the standards Colgate has, it still doesn't beat that of the 8 Ivies, which is why I think it hasn't been considered as one of them yet. But, in all honesty, and based on research, Colgate is a good university to consider.