The Jason Lang scholarship program was established to honor Jason Lang, a 17-year old student who died on April 28, 1999, from a school shooting at Columbine High School, Alberta.
You may think getting a grand is not a big deal but come to think of how many students have benefitted from this scholarship program since its birth. The Jason Lang scholarship recognizes and rewards Alberta post-secondary students for their academic achievements and encourages them to continue in their undergraduate or professional program of study.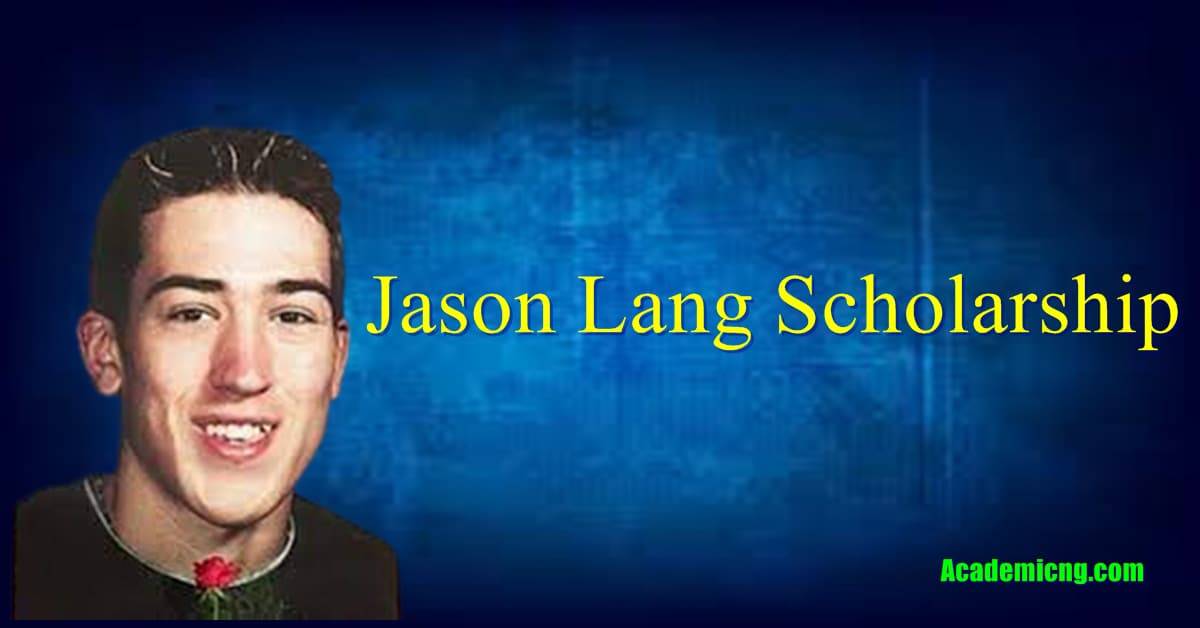 The funding for this scholarship is gotten from the Government of Alberta in conjunction with Alberta Student Aid, an organization that offers scholarships, grants, and loans to Alberta's post-secondary students.
In this article, we discussed Lang's scholarship requirements, the application process, worth, and closing date.
Jason Lang Scholarship Requirements
You must be a permanent resident of Canada, a Canadian Citizen, or a Protected Person.
You/your parent/partner must have been residing in Alberta for 12 consecutive months before starting your post-secondary studies.
You are expected to have a minimum GPA of 3.2 on a 4.0 scale based on an 80% full course load in the previous terms.
You must be enrolled full-time in the 2nd or subsequent year of an undergraduate program at a publicly funded post-secondary institution in Alberta.
You must not be a recipient of the Louise Mckinney scholarship program.
You must not be enrolled in a 1-year certificate program.
Applicant must not have received 3 Jason Lang Scholarships.
Protected persons including convention refugees are to submit a copy of their SIN (Social Insurance Number) card and a copy of the notice of decision or Verification of Status document (VOS).
Alberta Student Number (ASN) and Social Insurance Number (SIN) are generally required.
| | |
| --- | --- |
| Scholarship Type: | Undergraduate |
| Scholarship Amount: | $1000 |
| Deadline: | October 31, 2022 |
How many times can you receive Jason Lang?
You can receive the scholarship a maximum of 3 times. Anything above this and you won't be able to get it, there are other scholarships similar to this so it shouldn't be a problem.
Don't try to game the system, you may be blacklisted from applying for other scholarships offered by Alberta Student Aid. If you are in search of other scholarship opportunities for Canadians, you can check them out below.
Also Read:
How to apply for Jason Lang Scholarship 2022
Download the application form online (use the link below)
Print the form out since you are going to submit it offline.
Fill in your personal, citizenship, and residency information.
Fill in your post-secondary institution enrolment information.
Fill in the information for your previous academic year and sign in the area provided.
Review your application to make sure the information you filled in is accurate, if you made mistakes you can always print a new form.
Submit your completed application form to the Student Awards Office at your educational institution.
Incorrect details will make your application processing be delayed, so make sure you review it before submitting your application. The application form and all supporting documentation must be submitted before the deadline.
The deadline or closing date for the Jason Lang scholarship application is September 15, 2022, for the Fall Application and January 18, 2022, for the Winter Application. Applicants who have not been nominated will be notified a month after the scholarship deadline.
How long does it take to receive the Jason Lang Scholarship?
It would take about 30 days to receive the scholarship. Payment will be made in December for the fall term and March for the winter term.
If you were part of the winners and you haven't received the payment for more than a month, you may want to take a chill pill before contacting the scholarship board.
Kindly share this article with your Canadian friends and family, sharing is caring. Don't forget to subscribe to our newsletter!