Do you want to know the UCSB acceptance rate for freshmen and transfer applicants and the lowest GPA the university accepts for admission? You are at the right place.
This year, the acceptance rate is expected to be between 25% and 27% due to the increased number of applications they received. Yes, UC Santa Barbara got almost 130,000 applications for the class of 2026.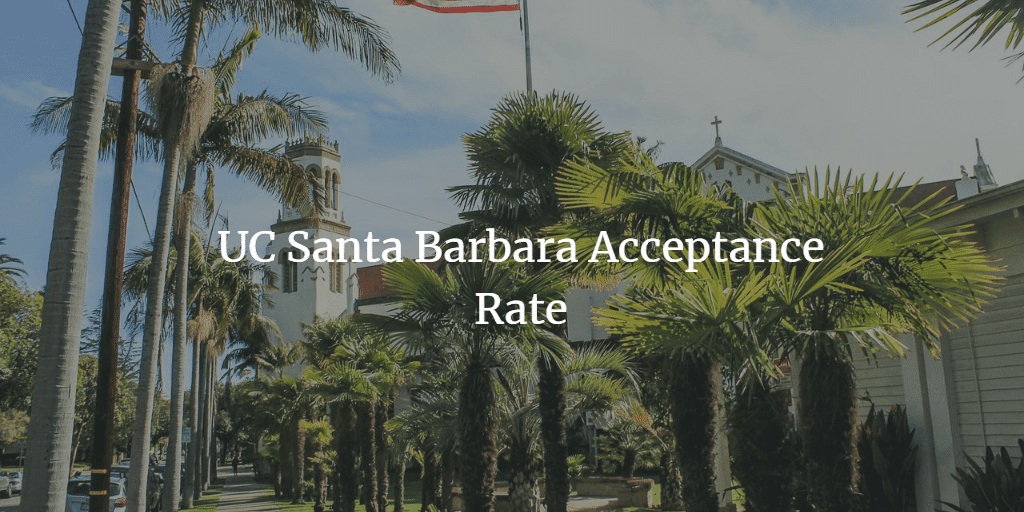 I will also explain the factors used by the admission committee at UCSB when selecting the best applicants. So you may want to read this article to the end.
Let's get into it.
UCSB acceptance rate for all students
The UCSB acceptance rate for the class of 2026 is projected to be around 25.9% because the university admits about 30,000 freshman applicants yearly.
In 2022, UC Santa Barbara received 128,589 applications from freshmen and transfer applicants. If UCSB admits about 40,000 applicants, it will be an overall acceptance rate of 31.1% for the class of 2026.
| Class | Freshmen Admit Rate | Overall Acceptance Rate |
| --- | --- | --- |
| 2026 | 25.9%% | 31.1% |
| 2025 | 29.2% | 32.4% |
| 2024 | 36.6% | 40.5% |
| 2023 | 29.6% | 33.1% |
| 2022 | 32.1% | 36.1% |
Compared to the admission stats for 2021, the number of applications increased by 1.9%, and the acceptance rate decreased by more than 3%. UC Barbara received a total of 126,210 applications for the class of 2025.
UCSB's acceptance rate for out-of-state applicants is 38.7%, and 34.6% for international applicants. The admit rate for non-residents has been improving in the last 5 years.
The University of California, Santa Barbara's acceptance rate for transfer applicants is 58% with a 21% yield. This implies that out of every 1000 applicants, 580 are offered a chance to study at UCSB.
What GPA do you need to get into UCSB?
A minimum GPA of 3.0 for California residents and 3.4 for out-of-state and foreign applicants are required for undergraduate admissions as freshman applicants. A GPA of 2.4 for California residents and 2.8 for non-California residents is required for transfer students.
Whether you are applying as a freshman or transfer student, the least grade you should have on your school transcripts is a 'C'. Try to get as many As and Bs as possible to increase your chances of getting into UC Santa Barbara.
Only the grades earned in your 10th and 11th grades in high school are used to calculate your preliminary GPA. Your UC GPA will be calculated at the end of the fall term you apply. To become a competitive applicant, you must have a weighted GPA of 4.23. Transfer students don't need a GPA as high as that to get into the University of California Santa Barbara.
Just like other UCs, the University of California Santa Barbara is test-blind. This means that SAT and ACT scores are not used in admission decisions.
Even though submitting your ACT or SAT scores are optional, those who have them do. Admitted freshman students have an average SAT score of 1460 and an average ACT score of 30.
Is UCSB hard to get into?
Getting into UCSB is hard, especially when you are an out-of-state applicant or international student. If you are not a legal resident of California at the time of application, gaining admission into UC Santa Barbara may be a little tough.
Also, your major can make a significant difference in your application. For example, getting into UCSB to study computer science is harder than aspiring for actuarial science.
Some colleges, like the College of Engineering, admit by major. On the other hand, the College of Letters and Science does not admit by major and is also the least competitive college at UC Santa Barbara.
I am not sure if you already know this, but transferring to UCSB is easier than applying as a freshman applicant. Attend any accredited community college in California, maintain an above-average GPA while meeting other requirements, and boom! You are in.
UC Santa Barbara is more competitive and selective than some UCs. A good example is UC San Diego which has a higher acceptance rate than UCSB.
What does UCSB look for in applicants?
The admission committee at the University of California Santa Barbara uses several holistic factors to select students who are eligible for admission. They majorly select those who are more competitive than the minimum admission requirements.
The 3 major things they look for in applicants are subject requirements, grade point requirements, and personal life accomplishments. Don't worry; I will explain every one of them shortly. Below are some of the requirements for admission as a freshman applicant:
Exceptional performance in one or more specific subject areas.
Unusual talents, achievements, and awards in a particular field.
Academic accomplishments in light of your life experiences and special circumstances.
Location of your secondary school and residence.
Completion of special projects undertaken in the context of your high school curriculum.
Outstanding work in one or more special projects in any academic field.
Academic grade point average in all concluded A-G courses.
Quality of your senior-year program.
Recent marked progress in academic performance.
Quality of your academic performance relative to the educational opportunities available in your high school.
Identification by UC as being ranked in the top 9 percent of your high school class at the end of your junior year.
Performance in academic courses past the minimum A-G requirements.
Number of and performance in UC-approved honors, Advanced Placement, and International Baccalaureate Higher Level.
Now, for transfer students:
Completion of a UC Transfer Pathway or an AA degree for transfer offered by a California community college.
Participation in academically selective honors courses.
Completion of a specified pattern or several courses that meet breadth.
Your grade point average in all transferable courses – especially in a UC Transfer Pathway.
Academic feats in light of your life experiences and special circumstances.
Location of the college and your residence.
Completion of special projects undertaken in the context of your college curriculum.
Completing a specified pattern or several courses that provide continuity with upper-division courses in the student's major.
Special talents, accomplishments, and awards in a particular field.
Apart from the general selection criteria outlined above, different colleges have special admission requirements. If you are applying to a music performance or dance major, you must pass the audition.
Make sure you select a second-choice major outside the college you chose as your first choice. If you are not selected for your first-choice major, you will be reviewed for your second-choice major. This applies to the College of Engineering and the College of Creative Studies.
In summary, what matters when it comes to getting into UC Santa Barbara are your GPA, extracurricular activities, essay or personal statement, residence, class rank, and taking advanced courses. Now you know the UCSB acceptance rate and its admission requirements.
Was this article helpful?