If you're looking for how to check Teachers Registration Council of Nigeria (TRCN) result, then this article will be very helpful on the whole thing involved.
Just as the TRCN examination result is available in the portal, this write-up will show you how to check the TRCN screening result step by step.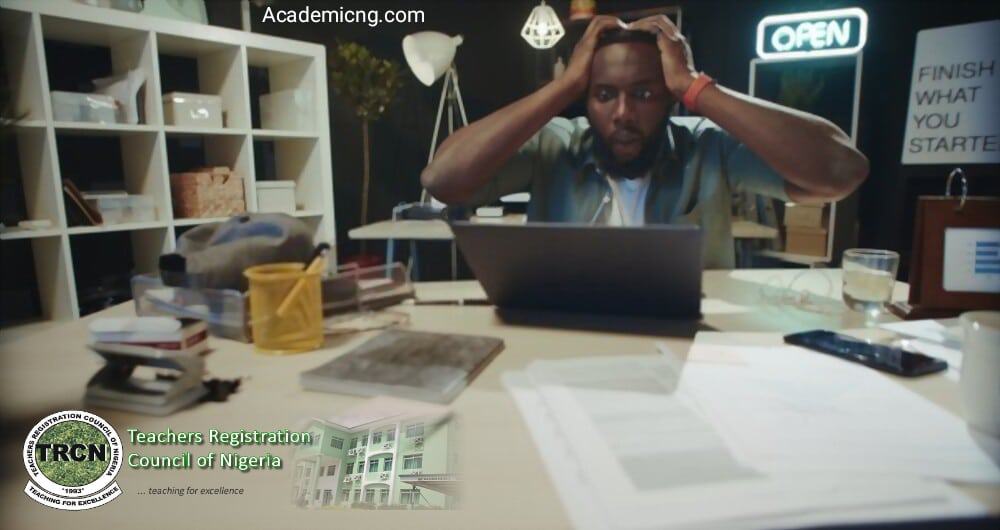 Moreover, on the off chance that you're looking for instructions on how to verify the TRCN aptitude test result 2022, you've come to the right place.
Many applicants who applied to TRCN, and sat for the exam have inquired as to when the results will be released.
We are writing to notify you that the Teachers Registration Council of Nigeria, TRCN, has not yet released the results of the 2022 TRCN aptitude test online.
How to Check TRCN Exam Result 2022
The TRCN CBT Result Checker is a tool that allows you to check the results of your test.
After the shortlisted applicants for the Teachers Registration Council of Nigeria (TRCN) have passed the aptitude test, the next step is to verify and check the TRCN CBT result.
To check your result, follow the steps outlined below:
Visit http://myresult.trcn.gov.ng/searchResult to access the TRCN result checking portal.
In the field provided, type your TRCN PQE Number or Name, for example BD/PQE/B019/P/00105.
On the website, click "check my result."
Wait for your TRCN result to appear on the screen.
To check your result, go to www.trcn.gov.ng, the Teachers Registration Council of Nigeria's result portal.
The results of the aptitude tests conducted across the country will be posted on the Teachers Registration Council of Nigeria's (TRCN) website.
According to the information we have received, the Teachers Registration Council of Nigeria (TRCN) will announce the TRCN test results following the TRCN examination.
Those who achieve the required score will advance to the next level of the TCRN screening.
Note that the Teachers Registration Council of Nigeria (TRCN) does not charge a fee to get your name added to the final list.
TRCN: A Quick Overview
Every profession has admission standards that must be met in order for someone to be considered a professional.
The importance of a license cannot be overstated. To work as a teacher, you must have a teaching license. TRCN has a role in this.
In the past, your accreditation allowed you to be legally considered a teacher in Nigeria. After successfully completing needed courses at a teacher-training institution, a teacher's certification is achieved.
Colleges of Education, Faculties and Institutes of Education at Nigerian universities, Schools of Education in Polytechnics, and the National Teachers Institute are among the institutions included in the National Policy on Education.
There is also a National Mathematical Centre and a National Institute for Nigerian Languages.
The term "certification" refers to the process of obtaining
What Exactly is TRCN?
The Teachers' Registration Council of Nigeria (TRCN) is a body that regulates teachers in Nigeria. It is an institution under the Federal Ministry of Education that was formed with the primary mission of regulating and controlling the teaching profession at all levels of the Nigerian educational system, both public and private.
Why is a TRCN License Required?
Teaching is a great vocation that draws a diverse range of people, the majority of whom end up teaching by accident.
Of course, there are people who have purposefully chosen to teach in order to reshape the future generation.
Regardless of the reason for joining an educational institution, every teacher who wishes to be taken seriously is required to obtain TRCN registration in order to gain suitable recognition.
To be qualified for employment, several local and international schools now demand teachers to submit their TRCN-issued teaching licenses.
Even individuals who received their teaching certification in Nigeria may be required to provide a TRCN attestation proving they are competent teachers in the country.
You don't want to miss out on that fantastic opportunity because of a license you could have gotten years ago. You can now apply for a Teacher's Registration Council of Nigeria certification and get set.
Other Functions of TRCN
The Teachers Registration Council of Nigeria also does other stuff. TRCN performs the following responsibilities in addition to registering and licensing certified teachers:
Accreditation, monitoring, and supervision of teacher training institutions in Nigeria to guarantee that their courses and programs satisfy national and international standards.
Internship schemes and induction programs for new Education graduates to provide them with the required professional skills before they are licensed to practice full-time.
Professional examinations and interviews are conducted to identify which teachers are eligible for registration.
Establishment of national minimum requirements for Mandatory Continuing Professional Development (MCPD) and implementation of those criteria to ensure that instructors stay current with changes in the theory and practice of their profession.
The organization of the Annual Conference of Registered Teachers (the first of its type in Nigeria) aimed to bring together all teachers, regardless of socioeconomic class or educational system level.
In Nigeria, a registry of certified and licensed teachers would be published in hard copies and made available on the internet.
The Teachers Investigating Panel (TIP) and the Teachers Tribunal are used to enforce professional ethics among teachers.
Unqualified persons executing the function of teacher in violation of section 17 of the TRCN Act are being prosecuted in a law court (2).
Assisting voiceless teachers and consistently initiating/driving public policies and practices that could reposition the teaching profession in Nigeria as first among equals.
That's it!
Conclusion
The Teachers Registration Council of Nigeria functions as a regulatory agency for all teachers at all levels of education, as evidenced by the above list.
The body carries out the registration process for new teachers in the country. The regulation of these civil servants is as well done by the Teachers Registration Council of Nigeria.
This article we excessive on how to check TRCN result. If you're interested in knowing what's your scores in the teachers screening test, then this article will get you set on that.