Are you contemplating how to apply for NIIT Scholarship 2022 in Nigeria? If that's the case, then you're on the right page.
In this article, we will delineate how to apply for NIIT Scholarship in Nigeria.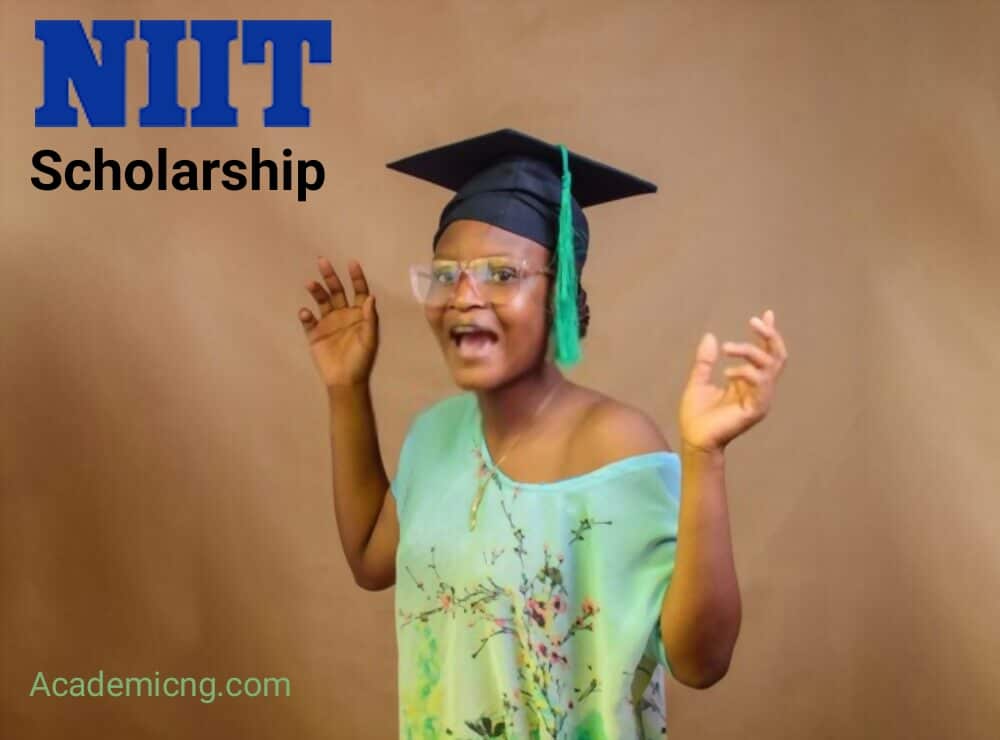 NIIT, a global leader in skills and talent development, first established a presence in Nigeria in 1999 by opening an education center in Ikeja, Lagos.
Since the introduction of the organization into the country to hen, they have pledged their support for the country's youth to pursue lucrative IT employment.
In this write-up, we will be looking at their fully funded Scholarship for students in the country.
Furthermore, the NIIT Nigeria National Scholarship is being announced to provide Scholarship assistance to deserving and meritorious students across various disciplines – School Leavers, Undergraduates, Graduates [Unemployed, Under-Employed], etc.
The Scholarship is also available for Individuals desirous of enhancing their technical skill-sets, and students in general who aspire to learn about I.T. and a career in I.T.
Also, this student-aid offer is designed to help people realize their ambition of pursuing a successful career in the field of information technology.
For the first time, on the occasion of the 20th Scholarship, NIIT is providing a 100% free scholarship to 20 Nigerian Digital Stars.
You can expect to among these students who will make it through simply by following the proper registration process that we will encapsulate in this article.
Why Should You Apply for an NIIT Scholarship?
The NIIT Nigeria Scholarship is intended to encourage deserving students to enroll in NIIT programs.
However, the 20th NIIT Nigeria Scholarship exam performance in the award of scholarship also recognizes the student's aptitude as a crucial feature.
The NIIT Nigeria Scholarship will be awarded based on a Merit Ranking determined by the NIIT Nigeria Scholarship exam score.
Objectives of NIIT Scholarship
The goal of the NIIT Scholarship include the following:
Attract, reward, and retain meritorious and deserving students to work in the Information Technology Industry.
With the scholarship for IT jobs, you may help people who are goal-oriented and ambitious.
They as well offer courses from the NIIT Product Portfolio that will help you get a better job.
Another good thing about NIIT Nigeria Scholarship is that it will set your life on a new path, allowing you to fly high.
With all these in mind, you should prefer a scholarship of this kind.
Requirements for NIIT Scholarships in Nigeria
Do you want to see if you're eligible for this student-aid grant? Candidates that fit into one of the following categories are eligible to apply:
School Leavers Undergraduates "O" Level / "A" Level Certification (those pursuing Graduation)
Graduates
Working professionals seeking re-skilling programs,
Unemployed graduates,
Underemployed graduates, and Entrepreneurs
On the whole, students who are fully eligible should as well apply for this scholarship.
Also Read:
How To Apply For NIIT Scholarship 2022
Candidates must complete the following three simple steps to appear for the examination:
First, they have to fill out the application form completely and submit it.
Collect the hall ticket and appear for the Scholarship Exam on the above-mentioned date.
It's also of note that the application form is completely free.
Date of the NIIT Scholarship Exam
The date was as follows last year was Saturday, July 13th, 2021 [various examination sites throughout Nigeria]
However, the new date for this year may fall within this timeframe.
All About NIIT Nigeria Scholarship 2022
Here is everything you need to know about NIIT Scholarship.
The National Institute of Information (NIIT) is a world leader in the development of skills and talent.
The body launched its presence in Nigeria in 1999 by opening an education center in Ikeja, Lagos. Since opening the training center in Lagos, the organization has reaffirmed its commitment to preparing Nigerian youngsters for lucrative IT employment.
Moreover, NIIT is a prominent Skills and Talent Development Corporation that is developing a personnel pool to meet the needs of the global industry.
The company was founded in 1981 to assist the fledgling IT sector in overcoming its human problems.
Individuals, businesses, and institutions can benefit from NIIT's training and development solutions available in 40 countries.
Global Corporate Business, Global Retail Business Skills, and MindChampion Learning Systems Limited are the three main lines of business for NIIT around the world.
Managed Training Services (MTS) are provided by NIIT's Global Corporate Business (GCB) to market-leading companies in North America, Europe, Asia, and Oceania.
The Global Retail Business (GRB) offers a wide range of learning and talent development programs to individuals and businesses in areas such as digital transformation, banking, finance, and insurance, soft skills, and business process excellence.
MindChampion Learning Systems Limited (MLSL), NIIT's wholly-owned subsidiary for its K-12 school learning initiative, provides schools with the futuristic NIIT nGuru range of learning solutions, which includes interactive Classrooms with digital content, technology-driven Math Labs, IT Wizard programs, and Quick School – an Education Resource Planning software.
The Training.com learning platform is an NIIT initiative for advanced career programs that are given life in an immersive and interactive online mode by industry experts, integrating instructor-led classrooms with the flexibility of attending training sessions from anywhere.
Conclusion
In conclusion, when applying for the 2022 NIIT Scholarship, be cautious to do the application process appropriately.
The Application form must have every piece of information filled in completely and precisely.
This Scholarship program is offered yearly to qualified Students in the country. As such, the time for this year's Scholarship is not known yet.
However, if you'd like us to provide you with more timely updates about the NIIT Nigeria Scholarship Scheme for this year, you can always visit this blog for updated information on that.
In the meantime, you can use the comment box below to drop your questions and inquiries about NIIT Scholarship in Nigeria.
That's the size of this write-up!
What are your thoughts on this? If you found this post interesting, please share it with your friends and network by using the share button below.
We believe it will help a lot of intending applicants for the NIIT Scholarship in the country.