The Gani Fawehinmi Undergraduate Scholarship 2022 is a Nigerian undergraduate scholarship award.
If you're a Nigerian student at tertiary institutions either universities, polytechnics, and colleges of education, then this is an opportunity for you to finance your education.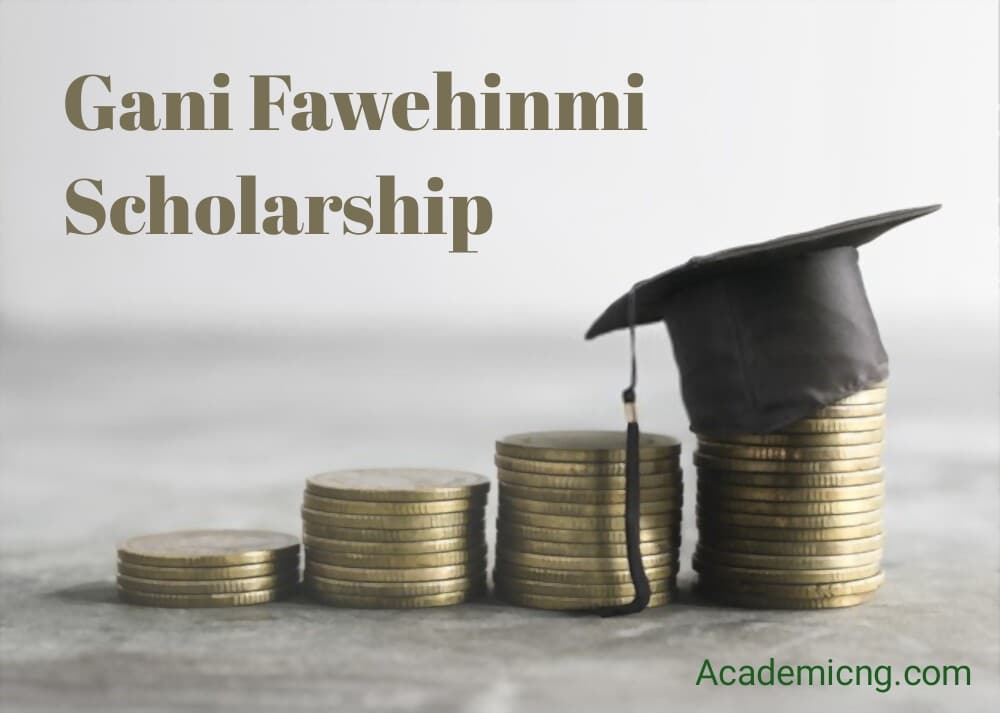 In this article, you will learn how to apply for the Gani Fawehinmi yearly scholarship awards for this current year.
The Eligibility & Guidelines will be extensively covered in this write-up.
About The Gani Fawehinmi Scholarship 2022
The Gani Fawehinmi Undergraduate Scholarship is a prestigious annual scholarship program named after Chief Abdul-Ganiyu "Gani" Oyesola Fawehinmi. It is one of the Board's ongoing scholarships for Nigerian undergraduate students.
Gani Fawehinmi was a well-known Nigerian novelist, philanthropist, social critic, seasoned human and civil rights lawyer, politician, and Senior Advocate of Nigeria (SAN).
Moreover, the Gani Fawehinmi Scholarship board does, however, intend to sponsor 20 students in a different field for the course of the academic year. Each year, a student will receive ₦100,000 as a one-time scholarship, which will not be renewed.
Until now, the scholarship board has consistently approved 20 candidates from various universities to be included in the merit list.
The scholarship board announced its two million dollar annual grants to Nigerian students in 2018.
Nonetheless, in order to be considered for the scholarship, you must meet specific criteria as set forth by the scholarship board.
Indigent students from Nigeria's public universities will submit their applications to offices placed throughout the country.
Level/Study Subject
This scholarship is available to Nigerian students pursuing undergraduate studies at any of the country's postsecondary institutions.
Nationality of the Host
The scholarship will be held in Nigeria and will be taken in Nigerian universities, polytechnics, and colleges of education.
This is for you if you are an international student who wishes to study in Nigeria.
Candidate Personal Requirements
The scholarship is intended for Nigerian students who have demonstrated extraordinary leadership and have a strong academic background.
Also Read:
Requirements for the Gani Fawehinmi Undergraduate Scholarship
You must meet the following criteria to be considered for the Fawehinmi Undergraduate Scholarship.
They include the following:
Firstly, students who have already won the Scholarship are not eligible to apply again.
Be a full-time student enrolled in any Nigerian higher education institution.
Have a solid academic performance.
The applicant must come from a low-income family.
The scholarship is open to all courses at universities, polytechnics, colleges of education, and monotechnics.
How to Apply for the Gani Fawehinmi Scholarship 2022
"How do I apply for the Gani Fawehinmi Undergraduate Scholarship?" That has been a recurring question posed by a lot of applicants especially those going for the first time.
Just as each year, you must apply for the Gani Fawehinmi 2022 Undergraduate Scholarship, here is how to get it done:
The applicant must send a letter of application to the scholarship board office that is no longer than two pages long.
The scholarship board, on the other hand, has offices in Abuja, Lagos, and Imo State, respectively.
Your letter must begin with your full name, course of study, and current year of study addressed to the scholarship board.
In addition, your letter must include information about your home state and local government.
However, in order for your scholarship letter to stand out from the crowd, you must employ proper language — you may check your grammar with Grammarly tool. You can also use other tools to get the same work done.
In the body of your letter, you must also explain why you should be chosen for the scholarship.
Why should you be chosen should be based on your current need and situation
After you've finished writing your scholarship letter, you'll need to enclose it with the accompanying documents in an A4 size envelope.
Documents Required for Gani Fawehinmi Scholarship
Documentation is importantly required for this scholarship program.
The photocopied documents you'll need to include with your scholarship application letter are as follows:
Letter from your head of department confirming your current identity card and correct information on your CGPA for the previous academic session.
You should be a full-time registered student at the university, according to a letter from your school Registrar.
Two (2) current passport photographs; and a copy of the current semester's course registration form.
That's for the documentation. What is the procedure for submitting a scholarship application?
Where to Submit Your Gani Fawehinmi Scholarship Application
If you're looking for the authorized place to send your application for Gani Fawehinmi Scholarship, then the details below will be helpful.
You have the option of mailing your scholarship letter or submitting it in person at the Scholarship Board office.
The following is the contact information for the scholarship board offices in the three states mentioned:
Gani Fawehinmi Scholarship Board
c/o ASUU Secretariat,
The University of Abuja,
Gwagwalada Campus,
Abuja.
Gani Fawehinmi Scholarship Board,
Nigerian Law Publications House,
Otunba Jobi Fele- Way,
C.B.D., Alausa lkeja,
P.O. Box 80279, Lafiaji,
Lagos State.
Gani Fawehinmi Scholarship Board
c/o ASUU Secretariat,
The Federal University of Technology, Owerri (FUTO),
Owerri,
Imo State
The Scholarship will be offered to the successful candidates in September of this year. Though it's not certain that the date is fixed, however, that's the timeframe of when the application for the Gani Scholarship is being done.
At 12 p.m., the Nigerian Law Publications House, Otunba Jobi Fele- Way, C.B.D., Alausa Ikeja, Lagos, will conduct a scholarship award ceremony.
Gani Fawehinmi Scholarship Application Deadline
The current application deadline for this year's Scholarship isn't available yet due to the fact that the forms are yet to be released.
It's quite good to note that the deadline to apply for this scholarship is usually August 18th of every year.
For additional information, go to the official scholarship page.
Monetary Worth of Gani Fawehinmi Scholarship
The Scholarship is worth a lot of money.
It is a one-time payment award for the Undergraduate Scholarship.
This means that the student will only have to pay back their money once.
If you meet all of the organization's requirements, you will be awarded a scholarship worth N100,000.
Each year, however, the scholarship will be awarded to 20 students from various Nigerian universities.
Conclusion
That's how far we can take on how to apply for the Gani Fawehinmi 2022 Scholarship. There are a lot of things involved in the process of applying for the student-aid grant. In order to make the whole process easy for you, we have highlighted a detailed guide to help you send down your application for the Fawehinmi Scholarship.
On the whole, the Gani scholarship scheme is a highly competitive scholarship, therefore if you want to be one of the high performers, follow the steps outlined in this article to earn the scholarship.