Before beginning your 2023 UTME/DE registration, you must have gotten your JAMB Profile Code.
The Profile Code is a 10-digit number used to complete profile registrations on the JAMB portal.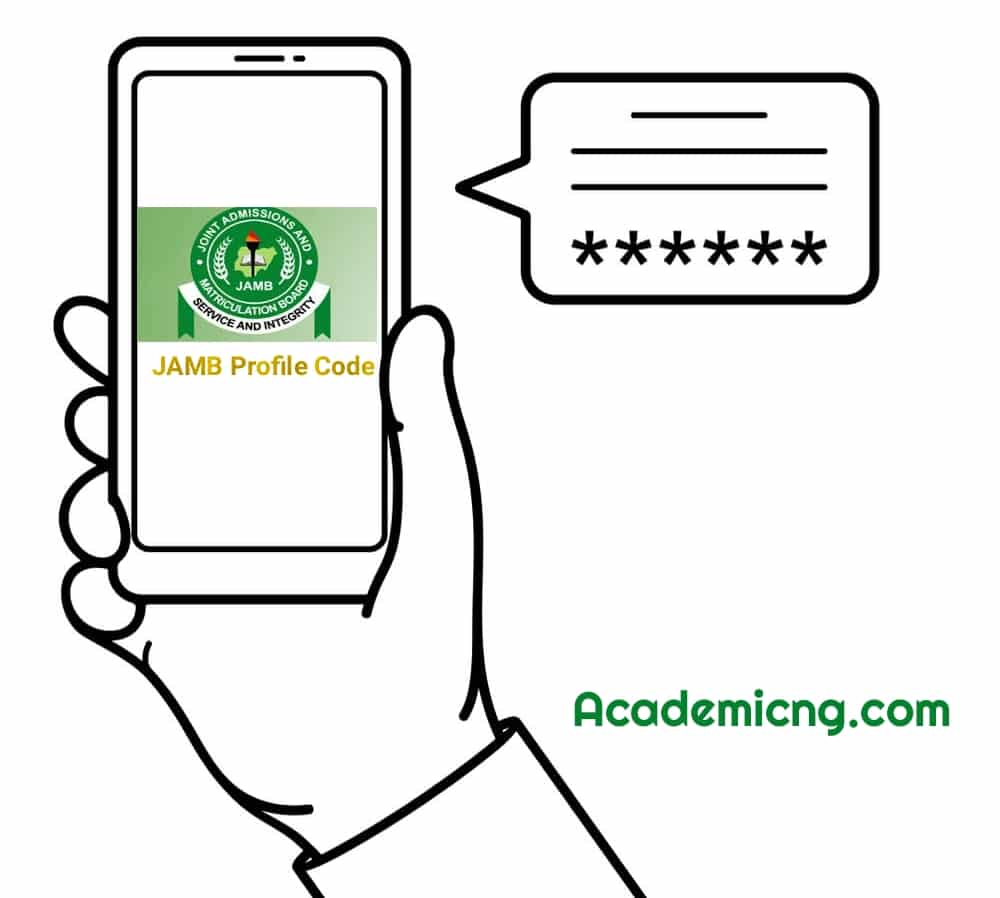 The code is unique to every JAMB candidate, meaning no two applicants can have the same profile code. This code will access any candidate's profile on the JAMB Portal.
Applicants who have partaken in previous JAMB exams must know this profile code and what it is all about. However, new applicants just getting registered on the JAMB portal might have little to no idea of what it entails.
Some previous applicants might find it hard to understand the new profile concept because the Joint Admissions and Matriculation Board has made specific changes in the process.
This article will show you everything about the UTME Profile Code 2023, how to create your profile, and what to do after getting your unique profile code.
About The New JAMB Profile Code
Unlike the previous JAMB UTME/DE Registrations, your full name was all you needed to get your profile.
But now, the whole system has changed.
To create your profile for the JAMB registration, you need to get your National Identification Number (NIN) ready first.
Therefore, if you have not registered or gotten your 11-digit NIN, you have to do that before you can register for the 2023 JAMB UTME/DE.
If you do not know how to go about your NIN registration, I will also show you how to go about it.
But before that, there are some things you will need to start your NIN application.
How To Get NIN For JAMB Registration 2023
Do you know why the Joint Admissions and Matriculation Board (JAMB) made it compulsory for all 2023 UTME/DE Applicants use their National Identification Number for registration? I guess you don't.
Over the years, there has been news of multiple registrations for UTME.
This happened because there was no means to trace the registrations to specific identities.
Hence, JAMB came up with development to solve this problem.
Since the National Identification Number (NIN) can be used to trace the identities of candidates, there will be little or no cases of multiple registrations again, as the system will be able to detect them automatically.
To register for your National Identification Number, follow this procedure;
Get the following information ready. Your Bank Verification Number (BVN) and other details will be discussed here.
Go to any NIMC registration center. NIMC uses different locations for NIN registration, such as banks, offices, etc.
You will meet a queue there, so you will be asked to stay in line. Then a specific number will be assigned to you depending on how many people you meet at the center.
Once you get attended to, you will be asked to fill out a form. The following information will be provided; Your full name, BVN, date of birth, gender, next of kin, phone number, house address, etc.
Your biometrics will be taken. Also, your passport photograph will be captured.
After doing all this, you will be told to append your signature to verify it's you.
Then, you will be given a date to come back to pick up your NIN slip. This slip contains your passport photograph, full name, and National Identification Number (NIN).
Please pick up your slip when it's your date, and you are all good to go.
How To Generate JAMB  Profile Code 2023
There are two ways to generate your Profile Code – The USSD Method & The SMS Method.
I will show you how to use the two methods to obtain the UTME 2023 Profile Code. You can make do with whichever one you are comfortable with.
How To Obtain JAMB Profile Code Through USSD
To get your Profile code using the USSD Method, dial *55019*1*NIN#. 
An SMS containing the full name used in your NIN registration and your unique profile code will be automatically sent to your phone number.
How To Get JAMB profile code via SMS
This is the most common method used by almost every JAMB candidate.
To generate your Profile code using this method, send the NIN number to 55019 or 66019 via SMS.
Let's say your NIN number is 123456789124; you will send NIN 123456789124 to 55019. 
Immediately, you will receive an SMS containing your Full name and unique profile code.
Please ensure you send the SMS with the phone number you want to use for your JAMB registration.
Precautions to take when generating Profile Code
Do not send an SMS to 55019 or 66019 from a phone number already used to create a profile or complete any JAMB registration. If you have used your phone number for former JAMB registrations, you are to get a new phone number and use it to get the code.
Ensure the NIN number you are sending to, 55019 or 66019, is yours, not that of any other person. The good news is even if you send the wrong NIN, you can still amend it by simply sending the correct NIN in the same format.
Ensure you have at least 50 naira worth of airtime on the SMS you send. Any SMS you send to 55019 or 66019 costs 50 naira each.
After Getting JAMB Profile Code, What Next?
Once you receive your 10-digit profile code from the Joint Admissions and Matriculation Board, the next thing to do is to proceed with your UTME/DE registration.
However, before visiting an accredited JAMB center, you must purchase a JAMB e-pin first. Your E-Pin will be used to start your registration at the center.
Deadline For Creating Your JAMB Profile
Wondering if you can still create yours today? Well, it has a closing date.
Once the registration for JAMB 2023 ends, you can no longer get the code. You can't even buy it if you think money will solve the problem.
JAMB Profile Code Issues and Solutions
I have sent my NIN to 55019 multiple times, but I haven't still received my Profile code.
There are different reasons why this can happen. Firstly, it can be because you have insufficient airtime on your phone.
Remember I said you must have at least 50 naira airtime on your phone to send an SMS to 55019 or 66019.
Secondly, your profile code won't be sent if you have used that phone number for previous JAMB registrations. If you have used the phone number before, use another to generate your profile code.
There is a mistake in the full name sent to me; what should I do?
The name that will be sent to you from 55019 is used for your NIN registration.
So, if you notice any mistake in it, JAMB has no business with it. You must report to any NIMC registration center and complain about the name.
I received the invalid character found error message; what is the solution?
This happens when you include special characters like ", &, ( etc. in the message sent to 55019 or 66019.
You are required to send only your National Identification Number to 55019 or 66019.
Including any other character will render the submission invalid.
I received the Record not found for the NIN error message; what should be done?
If this happens, it is most likely you have sent the wrong National Identification Number to the number.
So, you must check again and resend the NIN to 55019 or 66019. If you keep getting this message, kindly visit the nearest NIMC center to make a complaint.
You won't be required to pay anything for this correction.
I got the error message that my NIN passport is invalid; what should I do?
This can happen if the passport used for your NIN registration is not clear enough.
To resolve this issue, visit the nearest NIMC center and make necessary corrections. You won't be required to pay anything for this correction.
Please note that getting your profile code does not mean you have completed your JAMB UTME/DE registration. It is just a step forward.
You must proceed to any JAMB Accredited Center to start and complete your registration using your profile code and ePIN.
If you are experiencing any problems with your code, drop them in the comments section below. Don't forget to share this article with your friends.
Was this article helpful?