Have you entered your date of birth incorrectly during your JAMB registration and want to change it to your right date of birth on the JAMB portal?
You do not need to be concerned. For candidates who want to update their name or bio-data in the JAMB portal, we've put together a quick and straightforward approach.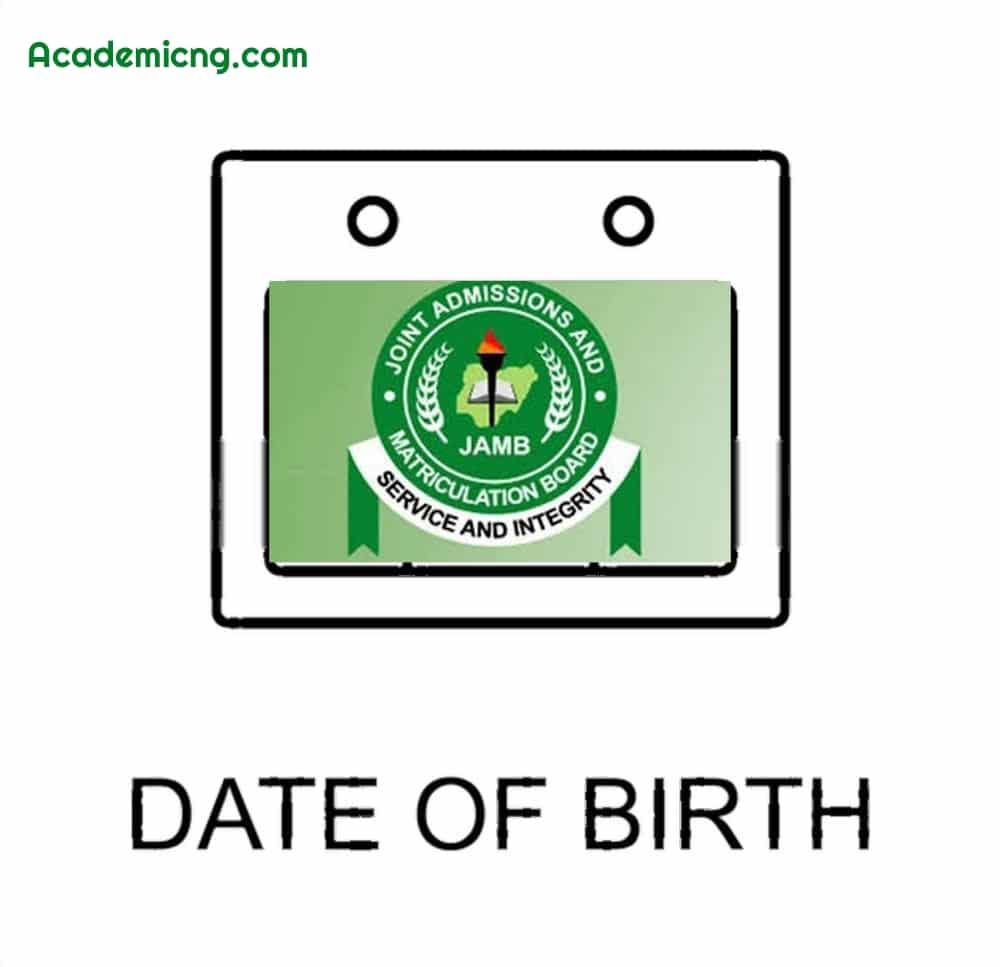 This article contains all of the instructions for changing your date of birth or biodata on the JAMB portal.
How To Change Your Date Of Birth On The JAMB Portal
To modify your name or bio-data with the Joint Admission and Matriculation Board, follow the steps below:
Visit the website of the Joint Admission and Matriculation Board.
On the green navbar, select the E-facility link.
Click Correction of Data under Post-Registration e-Facilities.
Select Change of Course/Institution from the drop-down menu.
You must create a JAMB account if you do not already have one (new users).
Log in with your details if you already have an account (Email and password)
On the left side of the menu bar, select Application of Data Correction.
In the dropdown menu, select the date of birth.
Click on Search Details after selecting your examination year and entering your Registration Number.
A Transaction ID is produced for this service after you select it. It'll show up on the confirmation page's screen.
Examine the information on the confirmation page.
If you want to use another payment method, such as an ATM, cash at the bank, or Quickteller, make a note of the transaction ID because you'll need it.
Enter your card information and click the Pay button to pay for the Change of course/institution.
To check the status of your payment, go to My Payment.
After payment, you will receive an SMS and an email with your unique Transaction Identification and payment status. Continue by pressing the Enter key.
You will be required to reselect your Examination Year and input your JAMB Registration Number after confirming your payment.
Your information will now appear when you have correctly entered the information.
Make sure your date of birth is correct.
A printable Indemnity Form will be displayed.
You submit the paperwork for approval to your institution.
The approved form must be submitted to the JAMB state headquarters by your institution.
The accepted form will be uploaded to your profile once it has been received. When it's finished, you'll get a notification.
Please Note: If you are unsure how to proceed. Do not attempt to do the task on your own.
Visit any certified center or JAMB office around the country for assistance in completing the process and avoiding making another error while attempting to repair the prior one.
Also, Note: The Transaction ID is required for any future Transaction references. Your registered email address will receive a copy of this transaction ID. In a bright red typeface, the transaction ID is printed.
Cost of Correction of Date of Birth on JAMB in 2022
Changing your date of birth on the JAMB portal costs a little amount of money.
Candidates seeking a change of birth correction must present supporting documentation (a birth certificate or a birth declaration) to back up their claims.
In addition, an indemnity form will be downloaded, printed, filled out, and sent with the accompanying documentation to the Candidates Institution for approval (Birth certificate or Birth Declaration).
The JAMB application fee for a change of date of birth on JAMB is fixed at ₦2,500 only.
How to Correct JAMB Birth Dates
Fortunately, you can change your JAMB date of birth at a CBT location or the JAMB office. Follow the steps below to do so:
Go to the JAMB office that is closest to you. It's possible that you'll need to make an appointment beforehand.
You can also walk into any licensed CBT center in your area without making an appointment.
Include a certified birth certificate or a court affidavit. Make sure the documents have the correct date on them. You can also bring your WAEC certificate, which has the same birth date as you.
Request that your birth date be changed on JAMB.
This could set you around N3,500 or perhaps less.
Closing Date for JAMB Correction of Date of Birth
The process of changing the birth date on the Jamb portal can be completed after the exam has been completed and the results have been released. You can ignore them for the time being till after your examinations.
It's crucial to remember that not all of these modifications are available right away, and some will have to wait until much later.
For example, JAMB Change of Course/Institution can only be done once the UTME results have been released for verification.
Implications of Not Having a Correct Date of Birth
The JAMB Date of Birth is a crucial factor in admissions into any higher institution in Nigeria which requires Jamb. If JAMB's date of birth is incorrect, it raises concerns about admissions. Why?
To begin, candidates' dates of birth will appear on the JAMB result, whether it is an online printout (called notification of result) or the real JAMB result.
Because you'll have to produce one of the two for admission, the school might frown on this oversight.
Second, when you finish your academic programs at university or polytechnic, your JAMB date of birth will be transmitted to NYSC for mobilization.
The NYSC, on the other hand, permits potential serving corps members to amend their birth dates. This is permissible if the candidate is willing to adjust his or her biracial date.
Third, schools will very certainly match the date of birth on your JAMB result to the one on your birth certificate or age declaration/court affidavit. Such schools will want to make sure that both are in sync.
Remember that your employer (government or private) may wish to double-check that the dates on your birth certificate and other papers match.
Candidates can apply for a JAMB change of date of birth to update their birth date.
Processing will necessitate the submission of supporting documentation. An indemnity form will be downloaded, printed, filled out, and presented with accompanying documentation to the Candidates Institution for approval.