You get that strange feeling when you check your JAMB result, and it has been withheld while your friends have seen theirs with no problems.
Enough of the sarcasm. Why exactly did JAMB hold some candidates' results? What can you do if this happens to you? You will find answers to these questions in this article.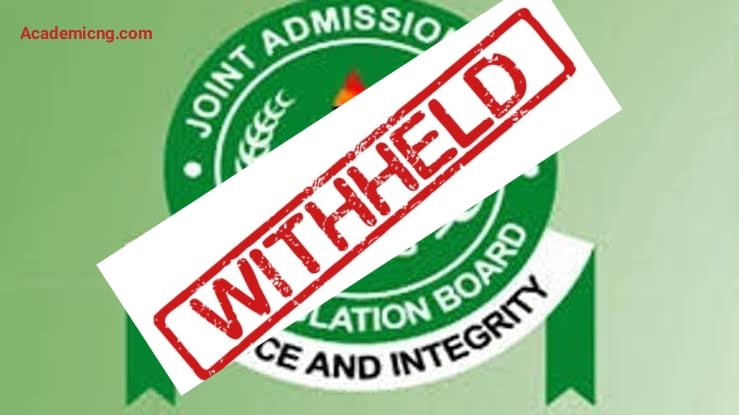 Read to the end to discover more information about the 2023 withheld scores or results.
Why JAMB Withheld Some Results & When It Will Be Released
Without wasting your time, let me explain the reasons. The significant reasons why JAMB withheld some results are:
Examination Malpractice: Some malpractice occurred during your exam, which they detected.
Banned cbt center: You registered or did your exam at the center that the board has banned.
Impersonation: Impersonation was detected. This is why you need to do fingerprint verification during registration and your exams.
Other suspicious activities may have been discovered by the board, which made them make that decision.
So what can you do?
JAMB usually gives you reasons why your result was held. They may also give you instructions on what to do.
If you can't find any instructions, log in to your JAMB efacility portal and check for what you will do to make them release the result.
Just calm down. There's no big deal. Most of the time, it's a false positive. They will indeed release it.
Why has JAMB not sent my result?
In case you have tried the SMS method for checking JAMB scores, and you have not received any response, it may be due to the following:
You have issues with the network, and your message did not get to them.
You sent the message to the wrong recipient. Make sure the recipient is 55019.
You don't have any credit. Make sure you have at least fifty naira.
You sent the message with a number you did not register with JAMB.
The results have not been released yet.
Please note that if your JAMB result is withheld, JAMB will let you know.
Is the JAMB result for 2023 fake?
In the history of JAMB in Nigeria, nothing like fake results or scores has been recorded. So, it can't happen due to the amount of work that goes into marking, scoring,g and processing these results.
Kindly ignore any rumors that JAMB 2023 results are fake, have been canceled, or have been deleted. Rumors like this always trend on social media, online forums, and blogs filled with fake news.
If you want the latest news on JAMB, check out the JAMB bulletin, released weekly, or visit academicful.com.
Thank you for reading, and I would appreciate it if you could share this with a fellow JAMB candidate like you.
All questions regarding this issue or JAMB, in general, are welcomed in the comments section below this article.
Was this article helpful?