Which is the best physician assistant vs physical therapist?
Yet another controversial topic in the field of Medicine. These two are distinct career options, but both belong to the Medical field.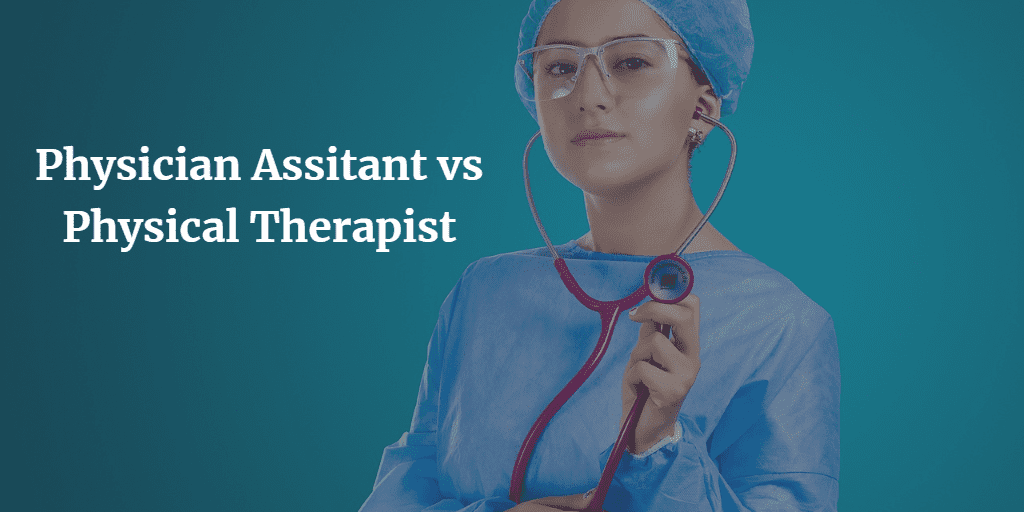 Over a number of times, I have received many questions concerning these two options. People have asked about what it takes to study and start practicing them, how long it takes for education and training, which has a better salary, and which is better overall. This is only to mention a few of all the questions I have entertained.
If you also have any of these questions in mind, I will do well to answer them thoroughly in this article. This piece can be of use to anyone, most especially to students who aspire to join the Healthcare world.
You will be exposed to reasons why these career options have become a topic of argument and the major differences between them, just in case, you want to go for one, but do not know which.
The difference between a Physician Assistant and a Physical Therapist is super clear but might be hard to see. One requires the supervision of higher and licensed medical personnel to work, while the other can perform major medical practices on his own, without the need for any form of supervision or go-ahead.
As we go forward in this article, you will come to understand the differences and similarities between these two career options.
Who is a Physician Assistant?
A physician assistant can perform so many operations in a clinical setting. Also known as PA, a Physician Assistant is a healthcare professional who has the jurisdiction to order tests, diagnose illnesses, develop and manage treatment plans, prescribe medications, and sometimes serve as a principal healthcare provider.
Contrary to the thoughts of many, a Physician Assistant is also a professional and not necessarily a subordinate to a senior. In the absence of a physician, a PA can handle a healthcare facility.
In most States, Physician Assistants are required to have a collaboration agreement with a licensed Physician. However, PAs must be certified by the certifying bodies in their regions. This gives them the right to work as a professional.
Unlike a Medical degree, the time required to complete Physician Assistant training is lesser. This is why a Medical degree holder is needed as a supervisor sometimes.
Practices of a Physician Assistant
As a physician assistant or associate, there is a limit to what you can do in a HealthCare facility. However, there are still several operations you can get involved in. These include;
Conducting Patient Interviews/Consultations
Taking Medical histories of patients
Conducting Physical examinations
Arrangement and interpretation of medical tests and examinations
Illness and disease diagnosis
Develop treatment and medication plan
Taking part in medical procedures
Prescribe medications to patients
Provide counseling to patients
Offer assistance in surgery
Provide advice on preventive healthcare.
Workplaces
Physician assistants are trained to work in medical settings including hospitals, clinics, telemedicine, or other health facilities. However, the majority of Physician Associates usually work in teaching and research institutes.
They may practice in primary health care or medical specialties like emergency medicine, surgery, and cardiology.
Physician assistant salary
Physician assistants are well paid but not as high as main Physicians. However, the pay is quite okay if you are just garnering experience in the medical line.
Physician Assistants receive an average of $120,000 yearly excluding other grants and benefits.
Who is a Physical Therapist?
A Physical Therapist is popularly known as a Physiotherapist in many regions. A physical therapist is responsible for providing healthcare through physiotherapy sessions.
This process helps promote, maintain, or restore health through Physical examination, diagnosis, prognosis, patient education, physical intervention, rehabilitation, disease prevention, etc. The responsibilities of a Physical therapist are quite many.
In addition to clinical practice, other aspects of physical therapist practice include research, education, consultation, and health administration. Physical therapy is provided as a primary care treatment or alongside, or in conjunction with, other medical services. In some jurisdictions, such as the United Kingdom, physical therapists have the authority to prescribe medication.
Practices of a Physical Therapist
Sometimes, not all illnesses can be healed with medications. And sometimes, medications will not increase the rate of healing. This is why Physical therapy was introduced into Medicine.
It is a way of treating human body disorders without the aid of a drug. Physical Therapists are responsible for managing illnesses and diseases relating to the following;
Musculoskeletal system (bones and muscles)
Neurological systems (brain)
Cardiopulmonary system (heart and lungs)
Integumentary system (skin)
In addition, Physical Therapy is organized regularly for as long as possible. On every therapy date, the therapist has a lot of things to do. They include;
Diagnosing patient condition and observation, during standing, walking, and performing tasks
Documenting the progress in the health of a patient
Listening to the concerns of the patient
Developing an individualized care plan built around their observations of your condition, the goals you want to achieve, and your expected outcomes
Assisting patients in using supportive devices like crutches, cane, etc
Developing and executing plans to discharge a patient from therapy at the most appropriate time
Workplaces
So where can you find a Physical Therapist? In any setting related to healthcare, you will surely find one. Places such as hospitals, long-term care facilities, athletics facilities, schools, clinics, etc.
Physical therapist salary
According to Statistics, it is shown that Physical Therapists receive an average amount of $100,000. This is lesser than the amount Physician Assistants earn annually.
Conclusion
As a Physical Therapist, it is not necessary to ensure all patients are admitted. Most times, treatment and therapy are conducted at the patient's home.
If the condition needs frequent medical attention, then the patient might need to be admitted. Sometimes, physical therapists have Assistants known as Physical Therapist Assistants.
It is now clear that though there is a little similarity between these two career options, the difference between them is quite wide. Just so you know, no career is better than the other. Both are very relevant to the medical profession and should be available at all times.