Is the EKSU admission list out or not? Based on an aspirant query, I have prepared this content thoroughly to answer all the questions that apply to it.
I am glad to tell you 2022/2023 EKSU (EKITI STATE UNIVERSITY) Admission list is out.  Let me use this medium to congratulate you all for the victory.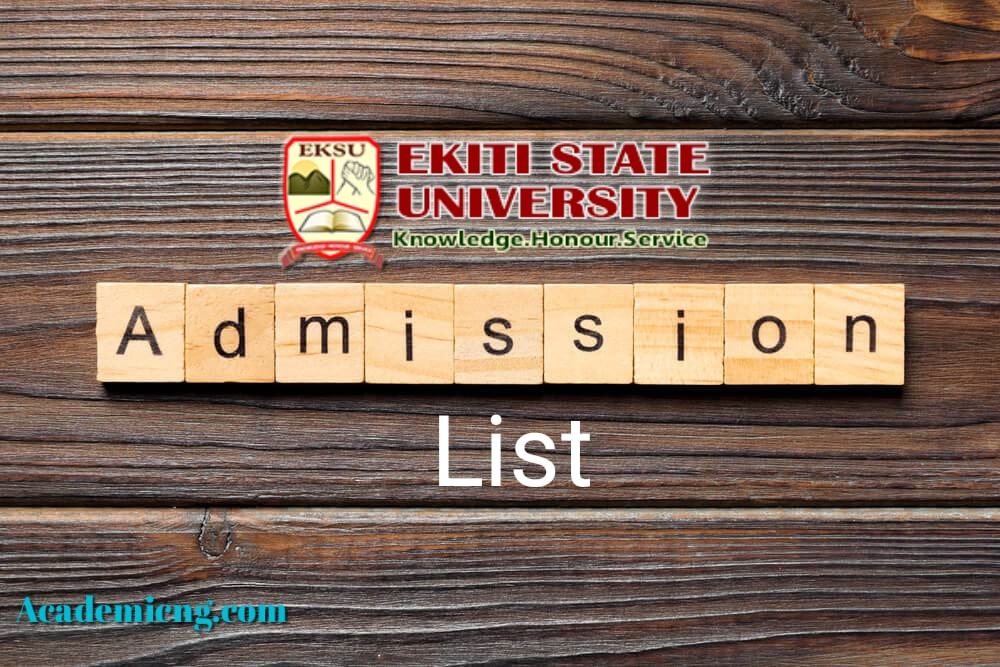 Issues concerning EKSU admission status and guides to prevent it from being revoked are what we will explore here.
Before proceeding, we all know most Nigeria tertiary institution doesn't accept everyone aspiring for one course or the other. Therefore if they reject you, don't think that all.
There is always a reason for that which is you not meeting up with the requested credentials or you didn't perform well in the test carried out.
However, there are a lot of means out there you can use to gain admission into any institution of your choice, so don't relent keep trying.
How To Check EKSU Admission List On JAMB CAPS
We've discussed concerning the JAMB CAPS portal, its usefulness, and what we mean you to do on it as a student or aspirant. Continue your visit to our website to see it.
Here are the simple steps to do that
Log in to JAMB CAPS PORTAL or jamb.org.ng/efacility
Supply the details required appropriately. In case any error appear kindly contact support.jamb.gov.ng and highlight your errors.
Search for "check admission status" in the navigation.
Input your registration number and your year of examination.
Click on check admission status button to confirm if they included your name was in EKSU admission list. If they offered you admission and your name isn't there, don't panic make use of the nearest JAMB office to lodge your complaint.
When is EKSU Admission List 2022 going to come out?
The 2022/23 List had already been discharged kindly drop your email below to receive more updates.
How much is EKSU acceptance fee for 2022?
This varies, to get the actual amount login to the portal to check for your department/faculty.
My course was changed my the institution what should I do?
They might change your preferred course for certain reasons probably not meeting up to the cut-off point or the departmental requirement not met because of subject wrong combination or the other.

If you are interested in studying the course, proceed to the nearby jamb office and edit the effect immediately.
Thinking of ignoring the course ?. Don't forget. "opportunity comes but once".
How To Check Your Admission Status on EKSU Portal
By now I think you already know your chance of gaining admission. However, you have to confirm this also on the school portal. To do so kindly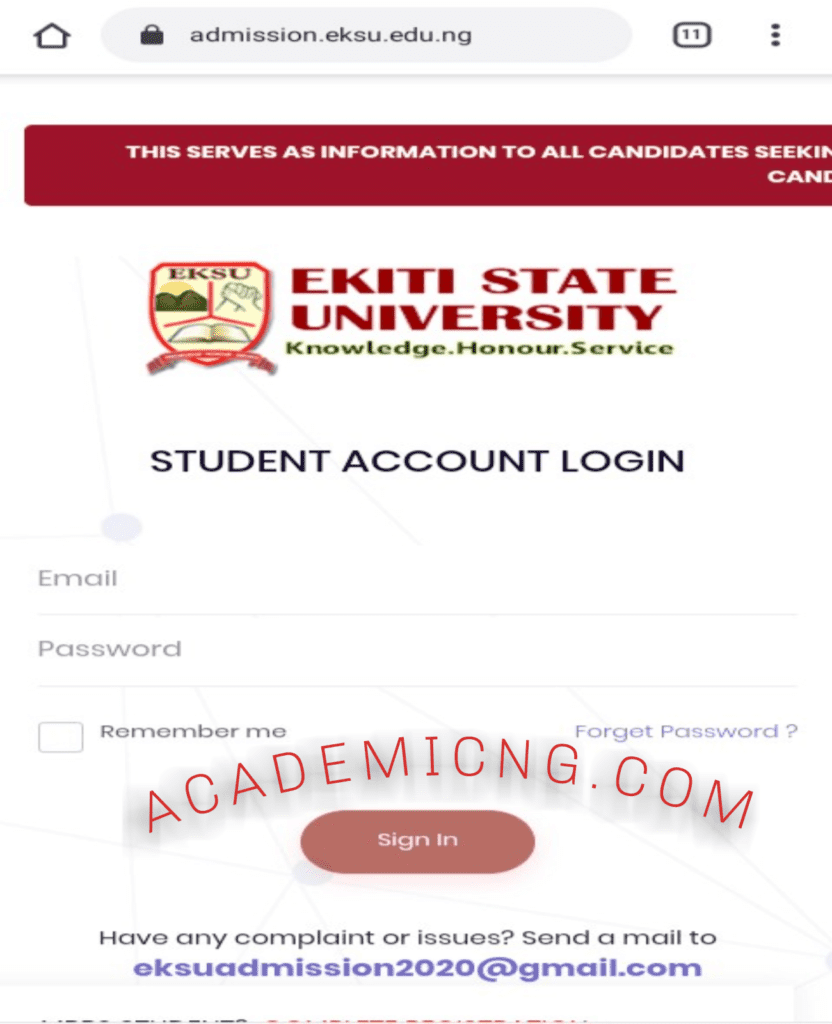 Input your username and password correctly in the login field.
Log in to view your admission status
Let also discuss how late payment of the acceptance fee can affect your admission.
Payment Of EKSU Acceptance Fee
After the discharge of the EKSU admission list, all admitted student is to pay up their acceptance fee before the time given elapse.
What will happen if I don't pay up before the given date/time. They might revoke your admission causing your name missing on the school portal.
My best advice for you is to pay up on time.
"Have it at the back of your mind that some aspirants who met EKSU admission requirements are still waiting to see their name published so don't take the risk."
Documents needed after the release of EKSU admission list
Below is what they request you to submit. Where?. Kindly visit the school admission office to know where it should be submitted.
Hint: Make at least four copies of the listed credentials and keep them in a secure place for further screening.
Birth Certificate: If you don't have it, rush to your local government or your place of birth to get it.
JAMB Admission Letter: Visit nearby cafe to get this printed. You are to print two copies. One for institution use and the other for candidate use. Make sure the two are available in case they request it.
Letter of Attestation: You can get this from your pastor, imam or king, likewise local government or any authoritative personnel. Get it provided ahead of the screening.
Post UTME Screening Slip: This includes your post UTME score and your bio data take it along to grant you the authority to proceed.
O'level Result : Print this from the official website of the board governing the exam you wrote to obtain your Ordinary Level Result. Include WAEC, NECO, GCE, NABTEB, etc.
Scratch Card: Purchase scratch card to confirm the o' level result you submitted. Only buy the quantity based on the number of sitting you use.
EKSU Admission Letter: Get this printed too and include it in your file. If you don't know how to scroll up and check the steps explained on how to check your name in the list via the portal. They include an option with admission letter printing.
Acceptance Fee Payment Receipt / Teller: Let me sight this as a warning to the newly admitted aspirant. Careless handling of your file, receipt, teller, etc might lead to an enormous problem. To be at the safer side kindly make use of a jacket to keep those documents to get and handle it with care. Also, make sure you collect tellers and receipts used for payment from the bank in case they provide duplicate copy and ensure to keep to it properly.
When is Eksu resumption date for 2022 freshers?
Visit the school portal to download the academic calendar for that session they have set all resumption and registration details there.
" For any issue concerning eksu admission portal kindly visit the school ICT to get them rectified."
We've strived hard to make sure you don't get confused about the EKSU admission list.
If I do not publish your question make use of the comment box or contact us we will reply as soon as possible.
Do us a favor by sharing this post with friends. Thanks as you do so.